Product description: LWLP5000 I2C Differential Pressure Sensor - DFRobot SEN0343
High resolution differential pressure sensor based on theLWLP5000chip. Communicates viaI2Cinterface, used to measure differential pressure at two points on the device. High-performanceMEMSchip and a special conditioning circuit, allows to make comparative measurements between two points. In addition, the chip uses a unique multi-stage temperature compensation algorithm to reduce the environmental impact on the sensor output. The module allows for pressure measurements in the range of approx.500 pa. It requires connection to a microcontroller equipped with an I2C interface, such as anArduinoorRaspberry Pi, to work properly. It is poweredfrom 3.3V to 5V.
Main features
Multi-stage temperature compensation algorithm
Digital I2C output
High resolution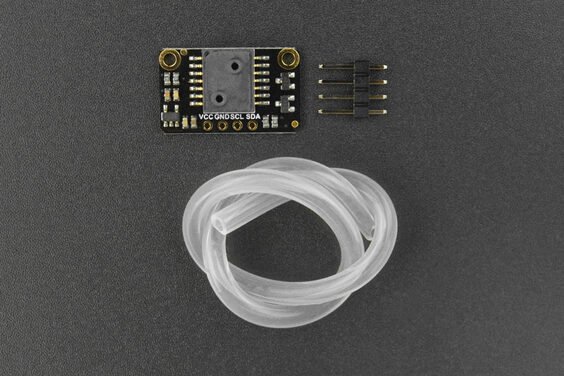 Differential pressure sensor LWLP5000.
Attention!

To ensure high resolution and long life of the sensor, use it in clean air. Be careful not to let water get into the sensor nozzle, as this will damage the sensor.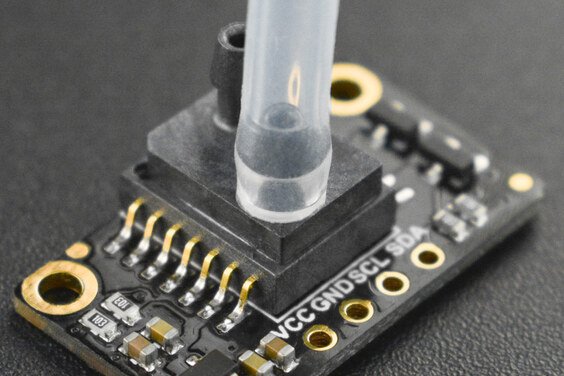 DFRobot differential pressure sensor
Sensor application
Home care equipment
Portable medical equipment
Medical monitoring
Industrial control
Central ventilation system
Differential pressure sensor specifications
Operating voltage: 3.3 V or 5 V
Measuring range: ± 500 pa (± 1.5% FS)
Current consumption: up to 5 mA
Communication: I2C
I2C address: 0x00
Working temperature: from -40°C to 85°C
Temperature compensation range: -5°C to 65°c
Dimensions: 14.5 x 24 mm
Included:

Differential pressure sensor
4-pin goldpin strip
Silicon tube 20 cm
Connections of the module
| Pin | Description |
| --- | --- |
| VCC | Supply voltage 3.3 V or 5 V. |
| GND | System ground. |
| SCL | I2C bus clock line. |
| SDA . | I2C bus data line. |