Product description: Fermion - BMP390L pressure sensor - I2C/SPI - DFRobot SEN0423
BMP390L digital barometric pressure sensor module from Bosch. It features extremely high temperature stability, low drift, low power consumption and low noise. The maximum deviation of absolute accuracy is less than 50 Pa and the relative accuracy can be ±3 Pa (equivalent to 25 cm), which is 166.7% higher than the previous generation. The measurement range is from 300 hPa to 1250 hPa. The sensor communicates via an I2C / SPI interface. The supply voltage is 3.3 V.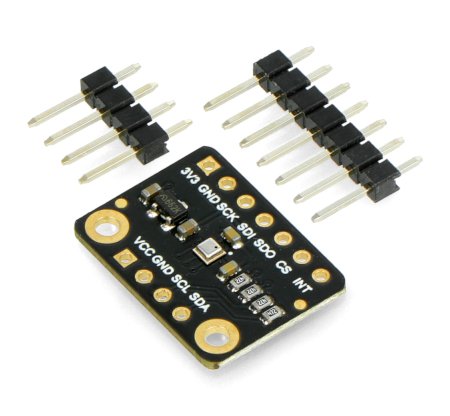 BMP390L pressure sensor module.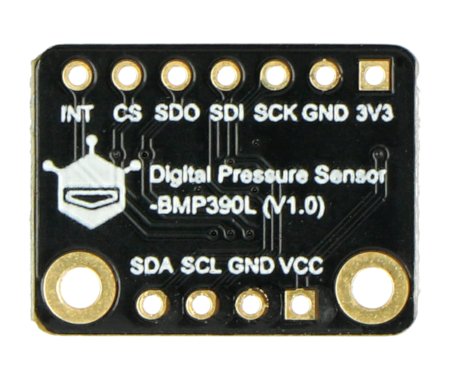 Pressure sensor module - DFRobot Fermion.
Main features of the BMP390L pressure sensor
High precision (absolute deviation < 50 Pa, relative accuracy < 3 Pa)
High long-term stability (±16 Pa/year)
Extremely high temperature stability and low drift
Low power consumption (54 uA in sleep mode, < 650 uA during operation)
Application of the module
Asset tracking and navigation (floor detection)
Water level measurement
Vertical speed indicator (e.g. ascent/descent speed)
GPS navigation enhancement
Outdoor navigation and applications
Medical applications (e.g. spirometry)
AR and VR applications
Flight stabilization
Pressure Sensor Module Pinouts
The Bosch BMP390L pressure sensor module communicates using an I2C or SPI interface and is powered by 3.3 V.
VCC - supply voltage 3.3 V
3V3 - 3.3 V input / output voltage
GND - module ground
SCL - I2C clock line
SDA - I2C data line
SCK - SPI clock line
SDI - SPI data line (input)
SDO - SPI data line (output)
CS - SPI selection
INT - external interrupt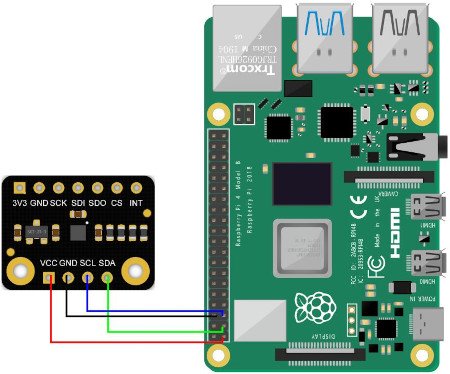 Example of connection with Raspberry Pi.
BMP390L pressure sensor specification
Supply voltage: 3,3 V
Current consumption: sleep mode (54 uA) / operation (357 uA to 650 uA)
Communication interface: I2C / SPI
I2C address: 0x77 (default) / 0x76 (option: SDO connected to GND)
Pressure measurement range: 300 hPa to 1250 hPa
Relative accuracy: ±0.03 hPa (equivalent to 25 cm) (@ 700 hPa to 1100 hPa, 25°C to 40°C)
Absolute accuracy: ±0.5 hPa
Temperature deviation coefficient: ±0.6 Pa / K (@900 hPa, 25°C to 40°C)
Long-term stability: ±0.16 hPa / ca
ODR accuracy: ±2 ~ ±12%
Measurement start time: 2 ms
Operating temperature: -40° to 85°C
Dimensions: 15 x 20 mm