Description of Raspberry Pi NoIR Camera HD v2 8MPx - original night camera for Raspberry Pi
Module with camera compatible with minicomputer Raspberry Pi, version 3, 2, B+, A+. The device uses a Sony sensor IMX219 (documentation), has a matrix sensitive to infrared light with a resolution of 8 Mpx, supports recording modes:
HD 1080p / 30 fps,
720p / 60 fps
640 x 480p / 90 fps.
Able to do higher quality pictures, 3280 x 2464 px. Raspberry Pi has hardware support for this camera so the device does not consume CPU resources. Does not require installation of drivers for the operating system Raspbian.
Version Noir has no filter of infrared light, in other words, its matrix is sensitive to radiation in the IR range. In practice, this means that the camera works well at night or in dark rooms full of invisible to the human eye light in the infrared range of radiation. For use in daily conditions, we recommend the standard version of the Pi camera.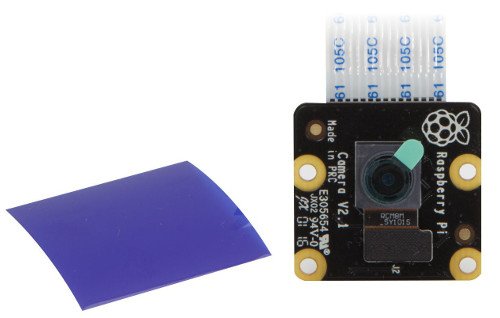 The kit also includes a small purple foil, in order to know for what it is, we encourage you to read this article :)
In our offer, you will find "daily" camera, equipped with an IR filter and the "night" camera, which does not have such a filter. Therefore, it can also record in the dark, using waves in the IR range. Minicomputer Rasberry Pi can be purchased separately.
A video showing how to connect the camera to minicomputer.
Accessories
In our offer are also cases for cameras Raspberry Pi, mounting handles and connecting tapes with a length of 5 cm, 10 cm, 20 cm, 30 cm.