Product description: Isolated RS485 transceiver - Unit type extension module for M5Stack developer modules
Unit typeextension module in a form of isolatedhalf-duplex transceiver, which is based onRS485bus protocol. It is a transceiver module that allows conversion ofTTLlevel toRS485level. It can be used to communicate with RS485 devices that require signal transmission over long distances. It is used as an element thatallowscommunicationbetween a device with RS485 interface and a microcontroller in industrial devices.
What is RS485?
RS485 is a communication protocol standard that is used to define electrical characteristics of controllers and receivers used in serial communication systems. It supports multipoint systems and is widely used in industrial fields.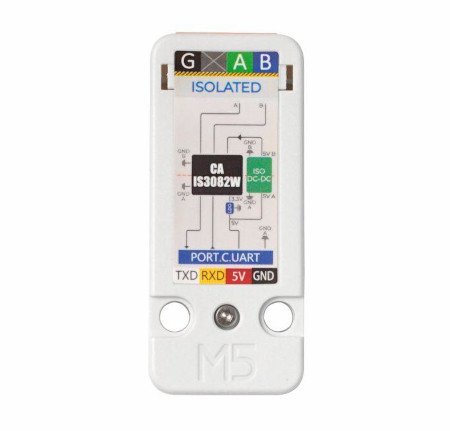 Supported by popular programming environments like Arduino.
Technical specification
Built-in isolation circuit: CA-IS3082W
Isolated DC-DC connector
Maximum voltage value: 1000 V
Supports up to 256 bus nodes
Supported development platforms: Arduino, UIFlow (Blockly, Python)
Layout: Half Duplex
ESD protection: 15 kV
Data transfer rate: 500 kbps
Protections: fail safe, overcurrent protection and thermal shutdown protection
Equipped with two holes compatible with LEGO standard
Module dimensions: 56 x 24 x 11 mm
Weight: 13 g
Contents of the kit
U094 transceiver module
4-pin screw connector
Resistor 120 Ohm
Connection cable with Grove connector - length 20 cm
In our shop you will also find other extensions of theUnittype, which will allow you to expand any project according to individual needs.