Product description: Fermion - multifunctional environmental sensor - DFRobot SEN0500
The environmental sensor module consists of SHTC3 temperature and humidity sensor, BMP280 pressure sensor, VEML8511 ambient light sensor and ML8511 UV radiation sensor. The environmental sensor uses two communication interfaces UART and I2C. It is powered by 3.3 V. The sensor can be used to create indoor and outdoor environmental monitoring systems.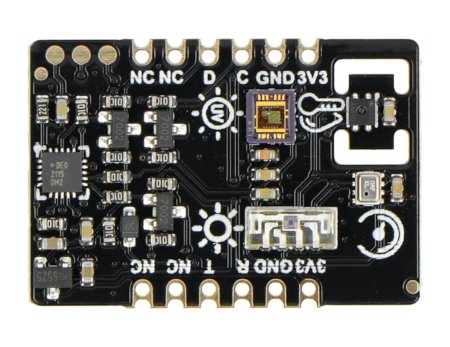 Fermion - multifunctional environmental sensor - DFRobot SEN0500.
Features of the environmental sensor
The module has leads in the form of solder fields to which the included goldpin connectors should be soldered
Choice of two communication interfaces I2C and UART
Highly integrated module, can monitor different data at the same time (temperature, humidity, barometric pressure, altitude, ultraviolet intensity, ambient light intensity)
The module guarantees the accuracy of the data thanks to the sensors selected.
Suggested application
Indoor air quality monitoring
Element of a weather station
Used in smart home projects
Pinout description and example connection diagram
The sensor should be connected with the microcontroller according to the diagram. The UART connection is on the left side and the I2C connection is on the right side of the illustration.
3V3 - power supply
GND - ground
RXD - receiving UART
TXD - transmitting UART
SCL - I2C clock line
SDA - I2C data line
RST - Reset pin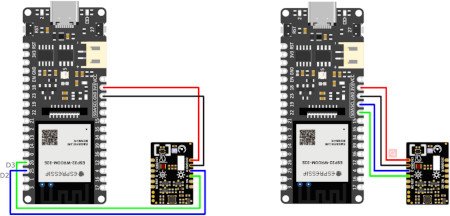 Multifunctional environmental sensor - connection (UART on the left, I2C on the right) with FireBeetle ESP32-E.
DFRobot environmental sensor module specifications
Supply voltage: 3,3 V
Current: 35 mA
Communication interface: I2C, UART
Operating temperature: from -20°C to 70°C
Module dimensions: 30 x 20.5 mm
Kit contents
Fermion - multifunctional environmental sensor - DFRobot SEN0500
2 x 6-pin single row strip
Barometric pressure sensor
Built-in sensor chip: BMP280
Barometric pressure measurement range: from 300 hPa to 1100 hPa
Relative accuracy of barometric pressure: ± 0.12 hPa
Absolute barometric pressure accuracy: ± 1 hPa
UV sensor
Built-in sensor chip: ML8511
Ultraviolet measurement range:

UV-A (320 nm to 400 nm)
UV-B (280 nm to 320 nm)

Output unit of ultraviolet radiation: mW/m2
Temperature and humidity sensor
Built-in sensor chip: SHT-C3
Relative humidity accuracy: ± 2% RH
Relative humidity resolution: 0.01% RH
Relative humidity measurement range: 0% to 100% RH
Temperature accuracy: ± 0,2°C
Resolution of temperature measurement: 0.01°C
Temperature measurement range: from -40°C to 125°C
Ambient light sensor
Built-in sensor chip: VEML7700
Ambient light measuring accuracy: 0.0036 lx/ct
Ambient light range: 0 klx to 120 klx