Description
Sound recording module based on ISD1820. It has a built-in microphone and a speaker attached. Built-in functions allow you to record and playback audio for up to 20 seconds. The device does not have nonvolatile memory. Supply voltage ranging from 3 V to 5 V. 
The product is compatible with Arduino
Sample code and detailed information can be found inthe user guide.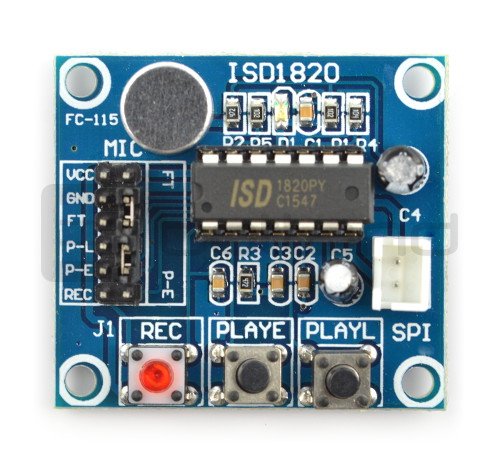 The module can operate as a standalone device or can be controlled through an external microcontroller.

Specification
Supply voltage: 3 V to 5 V
Function buttons

REC - record
PLAYE - one click plays the whole record
PLAYL - plays the recording while you hold the button

Speaker 8 Ohm / 0.5 W
4 mounting holes diameter 3 mm
Board sizes: 41 x 37 x 10 mm
Set includes:
The main module
Connecting the loudspeaker cable (requires independent soldering)