Product description: Arduino Giga R1 WiFi - ABX00063
Arduino Giga R1 WiFi is designed for ambitious makers who are looking for an efficient board with wireless communication for their projects. It will work with gamers, artists, composers, machine learning (Machine Learning), computer vision (Computer Vision), games, robotics and many others. The board is based on a dual-core, 32-bit STM32H747XI microcontroller (ARM Cotex M7 480 MHz and ARM Cortex M4 240 MHz), which allows you to run MicroPython and Arduino codes simultaneously. Wireless communication is possible thanks to the Murata 1DX chip, which allows WiFi / Bluetooth communication. Thanks to it, it is possible to connect the board to the Arduino IoT Cloud and remotely control and monitor the project. The connection is encrypted using the ATECC608A chip.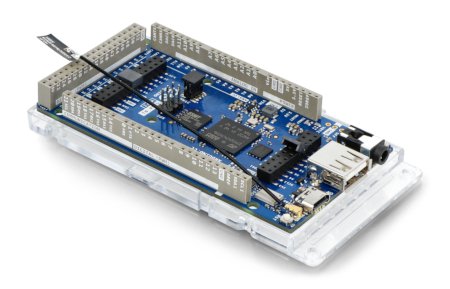 Arduino Giga R1 WiFi.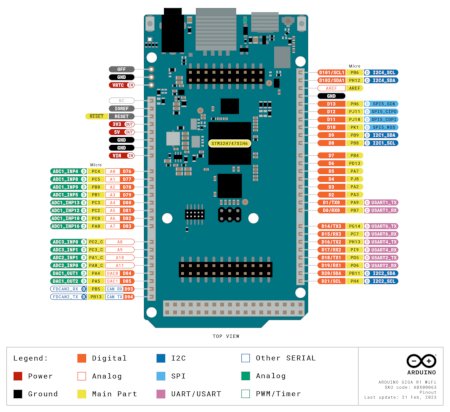 Arduino Giga pins.
Arduino Giga pins
The Arduino Giga has the same pin layout as the popular Arduino Mega and Arduino Due . It has been equipped with 4 UART ports (hardware serial ports), 3 I2C ports, 2 SPI ports and 1 FDSCAN port. Arduino Giga WiFi is compatible with shields for Arduino Mega / Due (remember that it works with a voltage of 3.3 V!) , Several GPIOs have also been added, which gives a total of 76 pins. There is also a VRTC connector on the board for connecting the RTC battery.
Arduino Giga connectors
Giga R1 WiFi has additional connectors that will facilitate the creation of projects without additional equipment. The board is equipped with:
USB type A connector: for connecting USB sticks, other mass storage devices and HID devices such as a keyboard or mouse.
3.5mm jack: Connected to DAC0, DAC1 and A7.
USB Type-C connector: for powering and programming the board, as well as for simulating an HID device such as a mouse or keyboard.
JTAG connector, 2 x 5 pin, pitch 1.27 mm.
20-pin connector for connecting the Arducam camera.
Main features of Arduino Giga R1 WiFi
Cheat sheet - short documentation prepared by the manufacturer with a description of the most important functions of the board.
Advanced ADC/DAC - learn more about ADC/DAC features from the guide .
Dual-core microcontroller - the board uses a dual-core STM32H747XI microcontroller, which can be programmed separately (M4 / M7). For example, you can run MicroPython and Arduino code simultaneously and communicate via RPC.
Wireless communication - the board is equipped with the Murata LBEE5KL1DX-883 system for WiFi / Bluetooth communication.
MicroPython - The Arduino Giga R1 WiFi supports MicroPython which can be set up in minutes.
USB - the board is equipped with a USB type C connector for communication / power supply / programming and a USB type A connector for connecting USB devices (keyboards, mass storage).
Camera support - check how to connect the camera using a dedicated connector .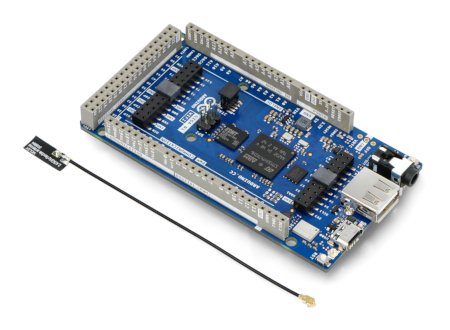 Arduino Giga WiFi with antenna included in the kit.
Arduino Giga R1 WiFi specification
Microcontroller: STM32H747XI Dual Core Cortex M7 + M4 32-bit
Wireless communication: Murata 1DX dual WiFi 802.11 b/g/n 65 Mb/s and Bluetooth
Protection chip: ATECC608A-MAHDA-T
USB:

USB type C: programming / HID
USB Type A: Host (enabled with PA_15)

Leads:

digital inputs / outputs: 75
analog pins: 12
DAC: 2 (DAC0 / DAC1)
PWM pins: 12
others: VRT and OFF

Interfaces:

UART: 4
I2C: 3
SPI: 2
CAN: yes (requires external transceiver)

Connectors:

camera: I2C + D54-D64
display: D1N, D0N, D1P, D0P, CKN, CKP + D68-D75
sound: DAC0, DAC1, A7

Power:

operating voltage: 3.3V
input voltage (VIN): 6 V to 24 V
current capacity of I / O pins: 8 mA

Timing:

Cortex M7: 480MHz
Cortex M4: 240MHz

Flash memory: 2MB
RAM: 1 MB
Dimensions: 101 x 53mm
‌