Product description: Maixduino AI development plate - K210 RISC-V AI + lOT ESP32 + OV2640 - DFRobot DFR0640
Maixduino AI is anArduino UNOformat development board dedicated to work with artificial intelligence. The board is based on theK210 RISC-VAI processor and is equipped with MI AI andESP32module and wirelesscommunicationvia Bluetooth and WiFi.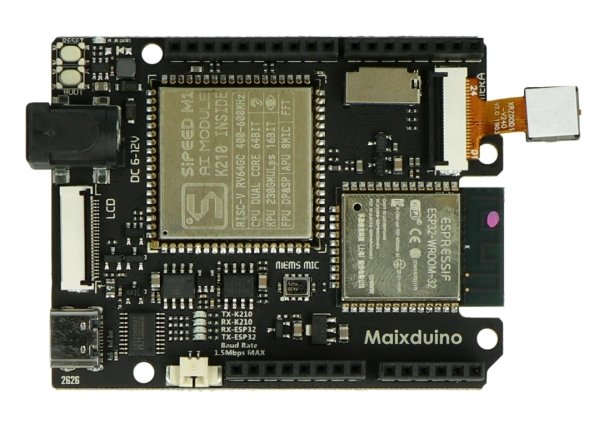 Maixduino AI development board.
A few words about the Kendryte K210 processor
Maixduino AI is based on a 64-bit dual-coreK210processor with an independent double-precisionFPU, the frequency of this processor is 400MHz,which can be further overclocked to higher values, the K210 also has 8 MB of SRAM.The board is additionally equipped withKPUhardware neural network accelerator, programmable IO array,FFTaccelerator and voice processing unit. The K210 can performconvolutionary, normalizing, activating and pooling operations, while pre-processing voice direction scans and generating voice data.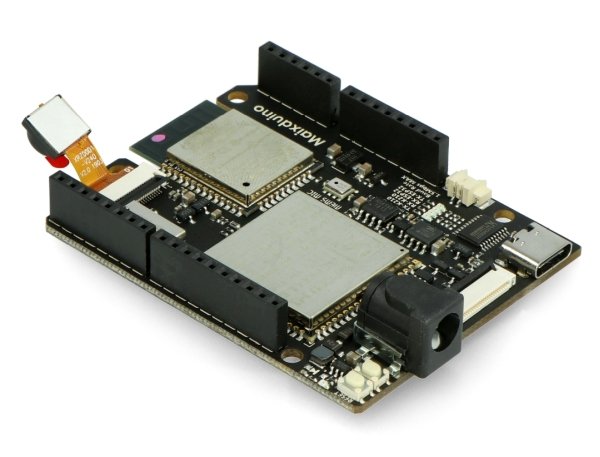 The board is based on the format known fromArduino UNO.
The shape of the board and connectors are compatible with Arduino UNO R3, however Maixduino supports 3.3V and 1.8V. A voltage of 5 V can damage the device.
What else is on the Maxiduino AI board
Wireless communication is carried out using the ESP32-WROOM-32 modulewith a dual-coreprocessor ESP32 Xtensa LX6, it allows for communication with WiFi 4, 2.4 GHz 802.11.b/g/nand Bluetooth 4.2 LE.Theboard alsoincludes aDVP cameraconnector, LCD display connector, MEMS microphone, DAC TM8211 I2S, 3 W power amplifier, USB 2.0 type C port for power supply and programming using a two-channel CH522 chipfor bothK210 and ESP32, as well as digital I/O, PWM, I2C, UART and 6analoginputs. Connectors compatible with Arduino UNO.Supported development environments are: Arduino IDE, Maix Py IDe and OpenMV IDE.

Arrangement of elements on the board.
Technical specification
Parameter
Scope
Power consumption:
USB C - from 6 V to 12 V

Operating temperature

:
from -30º

C

to

85º C

Temperature increase:
over 20 K
WiFi standard:

802.11b/g/n

WiFi transmission power:

802.11.b: + 15dBm
802.11.g: + 10dBm (54 Mb / s)
802.11.n: + 10dBm (65 Mbps)

WiFi mode:

Dimensions

:

68 x 54 mm