Description of product: DFRobot Shield GSM/LTE/GPRS/GPS SIM7600CE-T - shield for Arduino
Shield for Arduino with the SIM7600CE-T system, supports communication of LTE-TDD / LTE-FDD / HSPA+ / TD-SCDMA / EVDO and GSM / GPRS / EDGE. It also supports LTE CAT4 (with transfer speeds of up to 50 Mbps and download speed of up to 150 Mbps). It allows you to send text messages and create calls in the GSM network. It is also equipped with GPS and LTE module. It communicates through UART(RX, TX) interface using the AT commands.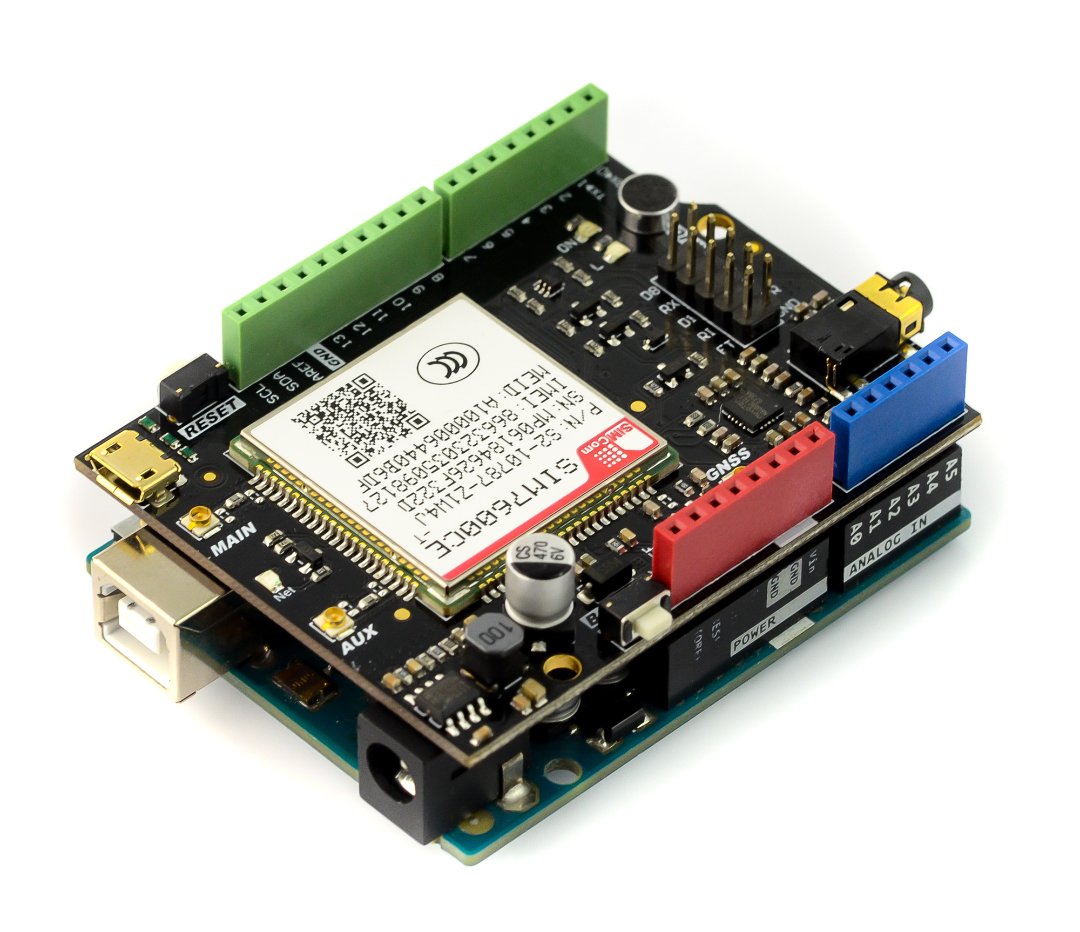 On the board are: connector for SIM card, u.FL slot for external antenna. Applied module SIM7600CE-T provides a connection through the GPRS/LTE network and also has a GPS module. On the board is the slot for SIM-card and connection of another Arduino Shields, is enabled by displayed connectors.
The product is compatible with Arduino
Sample code and detailed information can be found in the user guide.

Connecting the shield to Arduino DFRobot SIM7600CE-T
The board has connectors compatible with Arduino Uno, Leonardo and derivatives. To get started to work with the device, it is sufficient to connect the module and upload manufacturer's code example to Arduino.

Specification of the shield for Arduino DFRobot SIM7600CE-T
Supply voltage of USB: 5 V
Working voltage: 5 V
Input voltage: VIN - 7 V to 23 V / USB - 5 V
System: SIM7600CE-T
Supported networks:

TD-LTE B38 / B39 / B40 / B41
FDD-LTE B1 / B3 / B8
TD-SCDMA B34 / B39
WCDMA / HSDPA / HSPA+ B1 / B8
CDMA 1X / EVDO BC0
GSM / GPRS / EDGE 900 / 1800 MHz
4G: sending speed up to 50 Mbps, download speed up to 150 Mbps

It supports AT commands: 3GPP TS 27.007, 27.005 and AT commands from series SIM7500 and SIM7600
It supports GNSS positioning
Low current consumption: 20 mA / 7 V - Flight Mode
Status LEDs: power supply, network connection, operating mode
Operating temperature: -40 °C to 85 °C
Dimensions: 69 x 54 mm
The contents of the set of the shield for Arduino DFRobot SIM7600CE-T
SIM7600CE-T shield
GPS antenna
4G LTE antenna