Description of CAN-Bus Shield v2.0 DFRobot - Shield for Arduino
Shield for the Arduino that allows the use of serial CAN bus. It is equipped with chips MCP2515. It has a connector for microSD cards. It works with a voltage from 3.3 V to 5 V.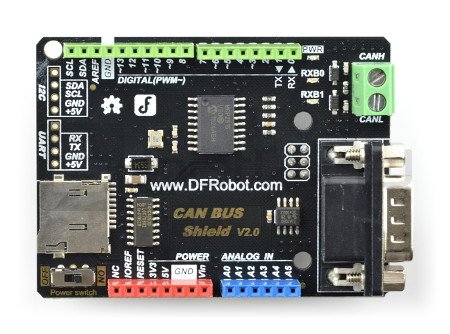 The shield has led out pins of the Arduino, it allows for the installation of another shield.
Pins
Lines of the CAN bus, i.e. CANH and CANL were led out on the screw connection ARK and on the DB9 slot. The distribution of pins is visible in the figure below.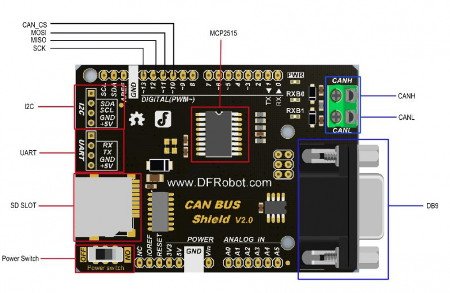 CAN-Bus Shield v2.DFRobot 0 - top view.
 The SPI interface marked in the figure is only available when connecting an Arduino Uno and refers to direct access through the overlay to Arduino pins. 
Specification of CAN-Bus Shield v2.0 DFRobot - Shield for Arduino
Chip: MCP2515
Supply voltage: from 3.3 V to 5 V
DB9 connector
Connector for microSD memory cards
The possibility of applying another Shield module
Built-in switch
Dimensions: 76 x 54 x 19 mm
Weight: 40 g