Description
Remote control for connecting with the BleBox controllers. It is reliabile and resistant to interference. It works independently, requires no router. It has 3 programmable buttons and 1 function button. RGB diode indicates the current configuration of the remote. The Basic version is made of plastic in white color.
µRemote is powered by built-in lithium-polymer battery. You can charge it through a microUSB port built into the back of the case, using a 5V charger or a PC USB port.
The remote control does not require the router in order to work. Connects directly with the BleBox driver. Connection is two-way, so the user immediately receives feedback about the execution of the command with a vibration and a diode signal.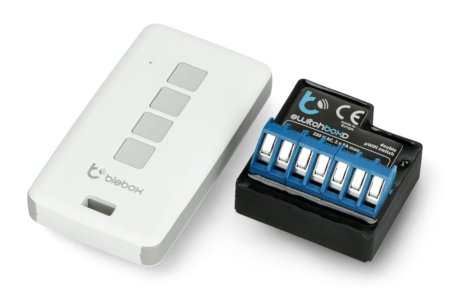 The remote has 3 programmable buttons and 1 button to choose one of the four groups marked with a different color of the diode. Each group can be assigned to other device, so that one remote can control up to four different controllers.
Specification
Protection: functions used in banking

Bilateral coordination of key
Communication with confirmation
Encryption using elliptic curves

Ensures safety and reliability
4 buttons
Alarm: LED RGB diode
Transmission: 2.4 GHz µWiFi
The ability to control 4 devices, 3 functions per each
The Basic version: plastic body
Color: white
Resistance to weather conditions
Power: battery li-pol charged through microUSB 5V
Dimensions: 72 x 39 x 13mm