Description
The development board with Bluetooth Core51822 module based on the nRF51822 system. It is equipped with UART, I2C and SPI interfaces and USB to UART CP2102 converter. It works with a voltage of 3.3 V and 5 V. It has a battery slot so the module can be powered independently from an external source. The board consists of LED and buttons for use by the user.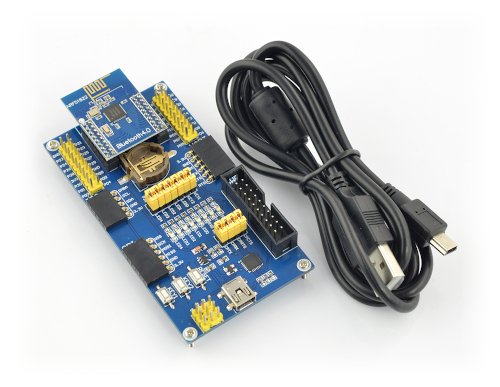 Set has BLE400 board, the Core51822 module and USB cable.
Specification
Core51822

The nRF51822 system
Flash memory: 256 KB
RAM: 32 KB
Communication range: up to 30m
Work frequency: 2.4 GHz
Operating voltage: 2 V to 3.6 V
Operating temperature: -40 °C to 85 °C
Built-in antenna
Terminal pitch: 2.00 mm
Module dimensions: 24.5 x 32,26 mm

BLE400

Place on the battery
USB - UART converter 
LEDs and buttons for the user to use
I2C, SPI and UART interface
Supply voltage: 3.3 V or 5 V
What is on the board?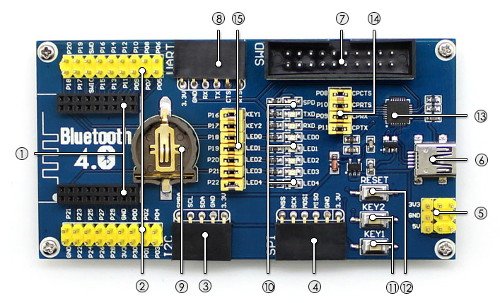 Connector for the wireless module, for example, Core51822
Pins for the external module
Led out I2C interface
Led out SPI interface
Supply voltage of 3.3 V or 5 V
USB connector: the USB - UART transmission via the built-in CP2102 converter
The debug interface
UART interface
Place for the battery
LEDs of the user
User's buttons 
The Reset button
CP2102 chip
USB-UART jumper 
Jumper for LEDs and buttons