Product description: Mounting power supply POS-50-5-C2 - 5 V / 10 A / 50 W
Mountingpower supply with a capacity of50 W. Equipped withscrew connectors, with which you can conveniently attach thewires. The input voltage is between100 V and 240 V AC. The output voltage is equal to5 V, and the output current reaches a value ofup to 10 A. The power supply also has a built-inpotentiometerthat allows you toadjustthe output voltage.
Technical specification of the power supply
Supply voltage: from 100 V to 240 V AC
Type: constant voltage
Output voltage: 5 V DC
Output current: 10 A
Power: 50 W
Terminals in the form of a terminal strip
Potentiometer for output voltage adjustment
Operating temperature: from -20 °C to 70 °C
Dimensions: 99 x 83 x 30 mm
Weight: 200 g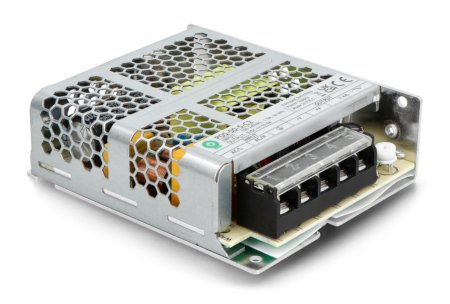 Mounting power supply POS-50-5-C2 - 5V/10A/50W.