Description
Transparent platform for building a robot. The set includes two DC motors with wheels with a diameter of 65 mm. In the front, the support is a metalrotation circle. The chassis components are made of acrylic, have mounting holes allowing it to install different kinds of sensors, controllers (includingthe Arduino,Baby Orangutan, Raspberry Pi) and others.
In order to start the robot, you only have to assembly the platform, fasten the engines, install the wheels and add any robot controller (e.g.Arduino UnowithMotor Shield). The power source can be 4 AA batteries, suitable basket for their installation is included. In our offer we also havesensors that can extend the robot's capabilities.
Set includes
The mounting platform
Two wheels with tires with a diameter of 65 mm
Two DC motors with gearboxes
One metal rotary wheel mounted with two screws
Metal and plastic components (screws, nuts, etc.)
Switch
Basket for the batteries (4 x AA) with the cables with the removed insulation
Set requires self-assembly.
The tread of the wheels may be different than this on the picture.
Specification
Voltage motor power supply: max. 6 V
Torque: 0.8 kg*cm (0.78 Nm)
Engine speed with no load: 90 +/- 10 rpm
Consumption of current of motor without load: 190 mA (max. 250 mA)
The current consumption of the engine with the stopped shaft 1 A
Wheels:

Diameter: 65 mm
Width: 30 mm
Plastic wheels with rubber tyres

Design size: 200 x 140 x 65 mm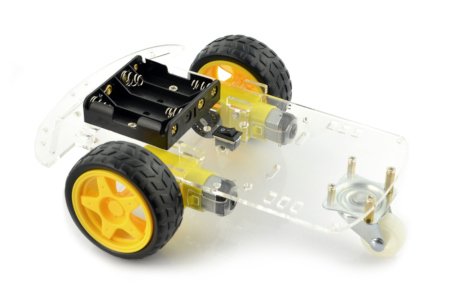 For mounting the front rotary wheel, only two screws are sufficient which are included in the package.