Product description: Mean Well HDR-30-12 power supply for DIN rail - 12 V / 2 A / 24 W
Mean Well power supply mounted on a DIN rail. Input voltage regulated by AC or DC switch. Output voltage is constant and equal to 12 V. Output current up to 2 A.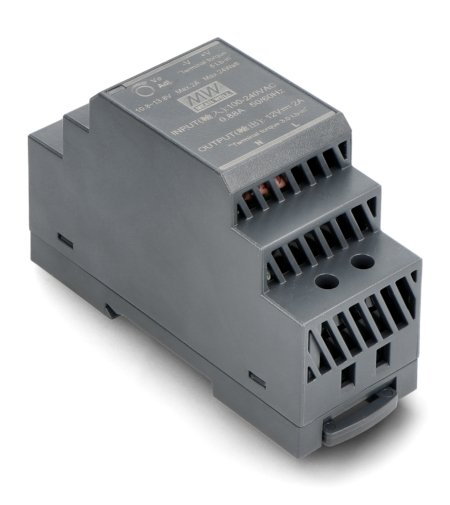 Mean Well HDR-30-12 DIN rail-mounted power supply.
Specification .
Power supply voltage: AC from 100 V to 240 V
Type: impulse
Output voltage: 12 V DC
Output current: 2 A
Power: 24 W
Efficiency: over 80 %
DIN rail-mounted
Screw connections
Dimensions: 93 x 58 x 35 mm
Details in the documentation.
Professional grade industrial power supply
In the case of industrial systems, designers are keen to use proven solutions from well-known brands. The power supply produced by Mean Well belongs to the devices which are renowned among specialists due to their high quality, reliability and solidity.
Mean Well HDR-30-12 power supply for DIN rail - 12 V / 2 A / 24 W is an industrial class device, designed for implementation in e.g. telecommunication and industrial cabinets. The enclosure has been adapted for mounting on a DIN rail (TS-35) and equipped with screw connectors for cable fixing.
Excellent parameters and a number of protections
The Mean Well power supply can operate with AC input voltage 100 V to 240 V AC. The output voltage supplied by the device is 12 V DC, while the output current reaches 2 A, which gives 24 W. For some applications, a smooth adjustment of the voltage in the range from 10.8 V to 13.8 V is an important advantage.
The HDR-30 Mean Well power supplies provide fast output stabilization after start-up (in just 100 ms) and perfectly cope with ambient temperature changes: the thermal coefficient of the output voltage is only 0.03 % / °C, with the operating temperature range from -20°C to 60°C.