Product description: Fermion 8421 horizontal encoder module - 16-position - DFRobot DFR0722
The8421 horizontalencodermodule is manufactured by DFRobot. It has16position options labeledfrom 0 to F. Data from the Fermion 8421 sensor is read out viadigitaloutputs-representing consecutive bits of the 8421 code (BCD). Unlike apotentiometer, the encoder does not require any additionalmemory, reference point or continuous motion counting function. The position can be read outat any time. The encoder is also characterized byincreased resistance to interferenceand reliability of data transmission. The product finds versatile use in widely understood industrial systems, designed to control the status of individual devices.
The product is compatible with Arduino
A detaileduser guideis available on the manufacturer's website, which makes getting started with the module much easier. It includes connection instructions, sample program code and a truth table.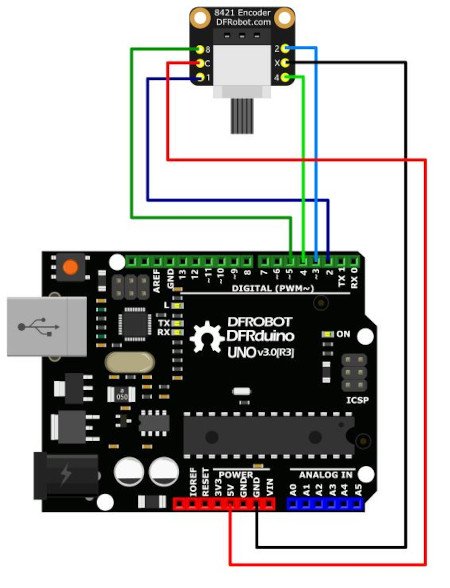 Scheme of connecting the encoder toDFRduinoboard, which is equivalent to popular Arduino. The board is not included in the kit, you can buy it separately in our shop.
Pinout description
8 - pin 8421 BCD of the port number 8
4 - pin 8421 BCD of the port number 4
2 - pin 8421 BCD of port number 2
1 - pin 8421 BCD of port number 1
C - Common port, to be connected to VCC power supply
X - commond port, for connecting to GND
Set contents
Fermion 8421 horizontal encoder module
Goldpin connector 1x3 aster 2.54 mm - 2 pcs.
In our assortment you will find also otherencoders. We encourage you to familiarize with the offer.
Technical specification of the encoder
Type: horizontal encoder
Operating parameters: 150 mA / 42 V
BCD 8421 coding: 16 positions
Position designation: 0, 1, 2, 3, 4, 5, 6, 7, 8, 9, A, B, C, D, E, F
Lifetime: 10000 moves
Operating temperature: from -40°C to 85°C
Module dimensions: 14 x 19 mm

Mounting holes diameter: 2 mm
spacing of mounting holes: 15 mm