Product description: ESP-WROVER-E v1.3 WiFi + Bluetooth BLE chip - SMD 128 Mb
ESP32 chip based on the Espressif ESP32-D0WD-V3 chipset (ESP32 ECO V3) for WiFi communication in the 2.4 GHz band and Bluetooth BLE / v4.2. It is powered with 3.3 V, available in a surface mountable SMD package. The chip has 32 GPIO leads along with popular interfaces, including: UART, SPI, I2C.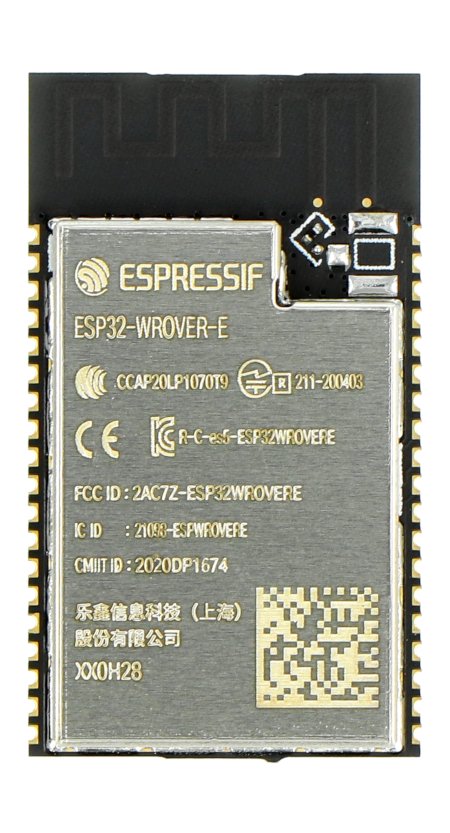 Wireless communication chip ESP-WROVER-E.
Main features
Supply voltage: 3,3 V
Dual Core Tensilica LX6 240 MHz microcontroller
520 KB SRAM
Flash memory: 16 MB
PSRAM: 8 MB
Built-in WiFi 802.11BGN chip
WiFi Security: WEP, WPA/WPA2, PSK/Enterprise, AES / SHA2 / Elliptical Curve Cryptography / RSA-4096
Built-in Bluetooth BLE module
Built-in PCB antenna
Integrated Hall sensor and touch screen interface
32 GPIO pinouts including:

3x UART
3x SPI
2x I2C (2x I2S)
12 channel ADC
2-channel DAC
PWM outputs
SD card interface

Dimensions: 31 x 18 x 3 mm
Mounting: SMD
Technical specification of the module
ESP32-WROVER-E v1.3 chip
Supply voltage: 3,3 V
Minimum supply current: 500 mA
WiFi standard: 802.11 b/g/n
Bluetooth standard: Bluetooth v4.2 / Bluetooth BLE
Wi-Fi Security: WEP, WPA/WPA2, PSK/Enterprise, AES / SHA2 / Elliptical Curve Cryptography / RSA-4096
Bandwidth: 2.4 GHz to 2.5 GHz
Operating temperature: from -40 °C to +65 °C
Mounting: SMD
Dimensions: 31 x 18 x 3 mm