Description
A module that enables connection of the microcontrollers and development kits (including the Arduino) with the Ethernet. The communication interface is the popular, digital SPI bus. On the board is Ethernet RJ-45  slot for the network cable and goldpin pins for connection to the main board. The supply voltage of the system is 3.3 V and the dimensions of the whole are: 56 x 34 x 16 mm.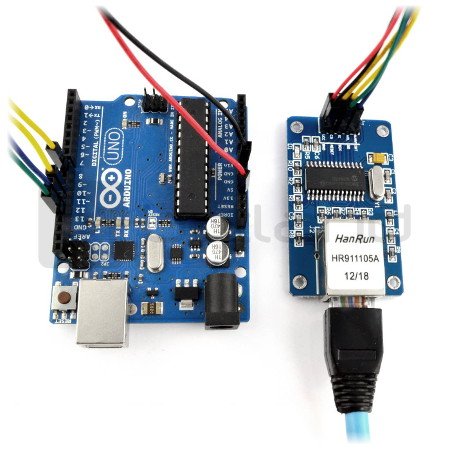 Specification
Supply voltage: 3.3 V
Maximum transfer rate: 25 MHz
Communication interface: SPI
The MAC address should be set in the program
Module type: 10Base-T
Operating temperature: -40 °C to 85 °C
Dimensions: 56 x 34 x 16 mm
Details in the documentation of the ENC28J60 system.
Pins
The module has goldpin pins for connecting with any development kit, or designed PCB using the available wires. The arrangement of pins is shown in the figure below.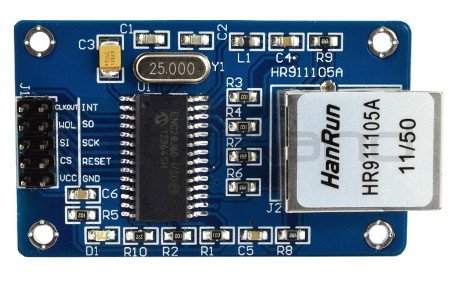 Table shows the description of pins of the Ethernet ENC28J60 module
| Name | Description |
| --- | --- |
| VCC | Supply voltage is 3.3 V. |
| GND | The potential of the ground of the system. |
| RESET | The reset of the system is activated with the low status. By default, it is in the high status - it is internally pulled up to VCC (pull-up). The pin tolerates the voltage of 5V. |
| CS | Chip select - selects a device on the SPI bus. activated as low. Default in the high state, internally pulled up to VCC (pull-up). Pin allows the voltage of 5V. |
| CCS | The clock input of the SPI bus. Pin tolerates the voltage of 5V. |
| SI | Line of the input data of the SPI bus. Pin tolerates the voltage of 5V. |
| SO | Line of the output data of the  SPI bus. Pin tolerates the voltage of 5V. |
| CLKOUT | Programmable output clock line. |
| WOL | Must be left not connected. |
| INT | Internal interrupt output. |