Product description: Soldering Vapour Extractor AKS-153 23W
The device removes dangerous fumes that are produced during soldering. It has two replaceable carbon filters. Absorption capacity reaches 1 m3/min.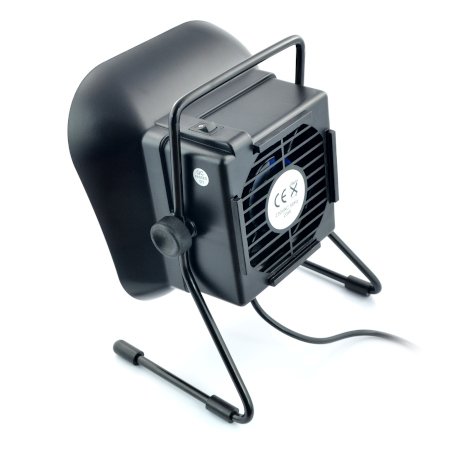 Solder fume extractor AKS-153 23W.
Specification
Supply voltage: from 220 V to 240 V
Power: 23W
Maximum absorption capacity: 1 m3/min
Two replaceable carbon filters
Cord length: 130 cm
Dimensions: 220 x 270 x 168 mm
Weight: 1.4 kg
We also offer replacement filters for the absorber.
Soldering fume absorber AKS-153 23W
Presented absorber, thanks to its high power, is characterized by high efficiency, so that it can be used in different size rooms. Compact size makes the device can be placed even on a small workshop desk.
A long cable and a flexible power cord ensure comfortable use of the fume extractor. In the upper part of the device there is a handle for comfortable and safe carrying.
What else makes the AKS-153 23W solder fume extractor stand out?
The possibility of a wide tilt adjustment of the device makes it perfectly adapted to the current working conditions.
The precise manufacture of the absorber for fumes emitted during soldering, combined with high quality components, guarantees long life. The robust housing is distinguished by its increased resistance to mechanical damage.