Description
The shock sensor reacts to movement in a certain direction, so it can detect, for example, a hand movement. It is equipped with a vibration switch, spring type which serves to output the pulses of the low status. The module is compatible with Arduino andMicro:bit.
The product is compatible with Arduino and Micro:bit
Sample code and detailed information can be found inthe user guide.
Pins
The module is equipped with a digital interface, at a time when the sensor detects movement, it indicates the impulse of the low status and starts the built-in diode.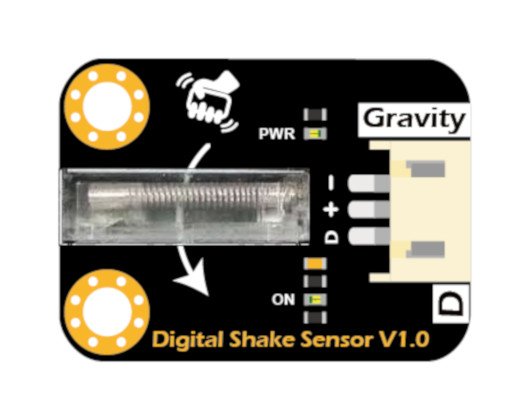 | Pin | Description |
| --- | --- |
| PWR | The power indicator (red), is enabled after turing on the power supply |
| GND | The ground of the system |
| VCC | Supply voltage from 3.3 V to 5 V |
| D | The digital output - low when motion is detected |
| ON | The indicator of the shock (blue), turns on when movement is detected |
Specification
Supply voltage: from 3.3 V to 5 V
The switch's service life: more than 200 000 uses
Interface: digital
Dimensions: 30 x 22 mm