Description
A switch that allows you to control a device requiring a large current by using a microcontroller. It works as a relay based on transistor MOSFET. It works with voltage from 5 V to 36 V with current consumption of up to 20 A (at a current higher than 10 A, it is recommended to use an additional radiator). The digital signal of the control system in the range from 3.3 V to 10 V changes the status of the switch. It can be controlled by any microcontroller, e.g.ArduinoorRaspberry.The kit includes a cable adapted to Gravity DFRobot IO Expansion Shield.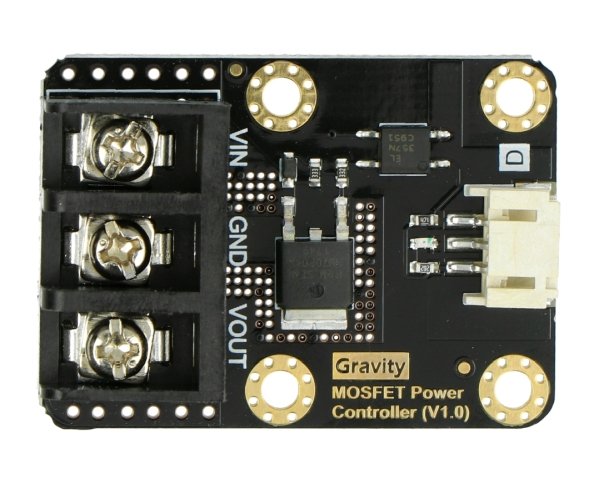 The device can also be controlled by the ON-OFF switch that has a switching frequency of 1 kHz.
Connection
The module works with any microcontroller with digital inputs, includingArduino. For this you need to connect the power supply and ground, and any digital pin of the microcontroller. On the other side of the module, you need to connect the managed device.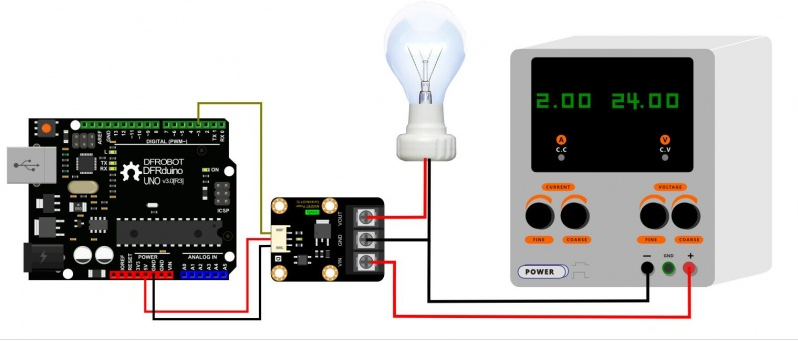 Example of connecting the sensor withArduino.
Specification
Supply voltage: 5 V to 36 V
Working current: 0 A to 20 A (above 10 A, we recommend using additional radiator)
Operating voltage of the logic of the system: from 3.3 V to 10 V
Switching signal: 3.3 V to 10 V
Switching frequency: 0 kHz to 1 kHz
Characteristic of switching:

The switch-on time: 20 µs
The switch-off time: 50 µs

Operating temperature: -55 °C to 155 °C