Product description: DFRobot Gravity - connection cable - for analog sensors to Arduino - 30 cm - 10 pcs.
Connection wires withGravity standardproduced by DFRobot. Designed to connectanalogperipheral devices(sensors equipped withGravityconnector) with the Arduino microcontroller. The wires are30 cmlong. On one side they have3-pin JSTconnector and on the other side a Gravity connector. They consist of three wires corresponding to power, ground and signal lines. There are10 piecesof cable in the set.
Items sold in a bundle of 10 pieces.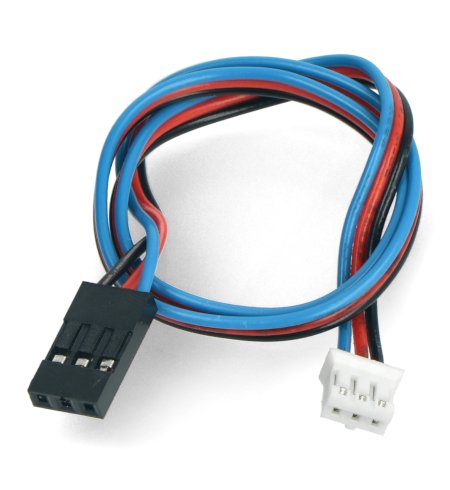 The cable has a Gravity connector and JST plug.
Technical specification of the cable
Cable standard: Gravity
Cable type: analogue
Maximum voltage: < 50 V
Maximum current: < 1000 mA
Number of pins: 3
Connector type:

connector 1: 3-pin JST
connector 2: Gravity

Pinout description:

red: PWR
black: GND
blue: Signal

Number of pieces in the set: 10 pcs.
Length: 30 cm
Gravity Standard - what is the Gravity connector?
Connection cable equipped with a connector compliant with the Gravity standard significantly simplifies and accelerates the process of connecting peripheral devices with the controller module. Cables of this type are an ideal connection solution, willingly used in widely understood projects of home automation, building automation, robots, industrial applications and many others.