Product description: Gravity - set of connection cables - PH2.0 male plug - 30 cm - 10 pcs - DFRobot FIT0897
A set of connecting cables equipped with a connector compliant with the Gravity standard and a 3-pin PH2.0 male goldpin connector. The cables were manufactured by DFRobot, they are intended for connection peripheral devices (applies to sensors equipped with a Gravity connector) with an Arduino microcontroller. The cables are 30 cm long . The cable consists of three wires corresponding to the power, ground and signal lines. The set includes 10 pieces of cable.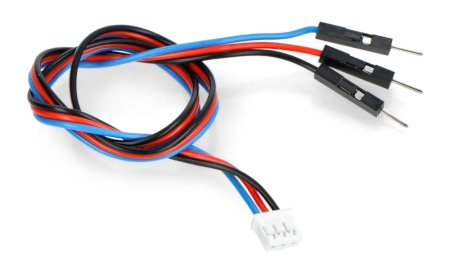 The cable has a Gravity connector and a PH2.0 plug.
Technical specification of the cable
Cable standard: Gravity
Cable type: analog
Maximum voltage: <50V
Maximum current: <1000 ma="" li="">
Number of pins: 3
Connector Type:

Connector 1: 3-pin PH2.0 male plug compatible with the goldpin plug
connector 2: Gravity

Description of the pins:

red: VCC (power)
black: GND (system ground)
blue: Signal

Number of pieces in the set: 10 pcs.
Length: 30 cm
Gravity Standard - What is a Gravity Connector?
The connection cable, which has been equipped with a connector compatible with the Gravity standard, greatly facilitates and speeds up the process of connecting peripheral devices with the controller module. Cables of this type are an ideal connection solution that is very often used in the broadly understood projects of home automation, building automation, robots, industrial applications and many others.