Product description: Gravity - TRIG URM09 ultrasonic distance sensor - DFRobot SEN0388
Ultrasonicdistance measuringmodule produced byDFRobotwith integratedURM09chip. It detects objects at a distancefrom 2 cm to 500 cm. The distance is determined with a resolution of1 cmwith an accuracy of1%. The sensor can be powered from3.3 V to 5.5 V DC. Small size,high measurement accuracy, Plug&Play support and wide measurement range make the module widely applicable in projects whose mission is to avoid obstacles, warn about crossing the safety line or applications such as a car reversing signal or a smart doorbell.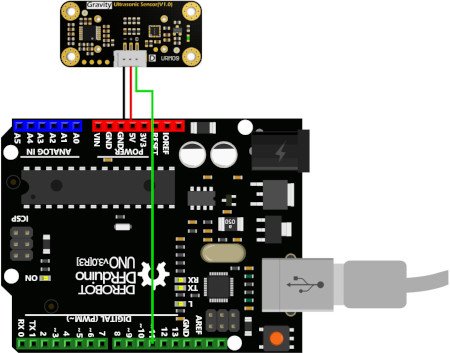 Example diagram of sensor connection using DFRobot board, Arduino equivalent. The board is not a part of kit, you can buy it separately in our shop.
Pinout description and example connection diagram
The module is equipped with a connector compatible withGravitystandard. Thanks to it, it's possible toquicklyandconvenientlyconnect the sensor with the controller board -without additional soldering. Connect thesensorwith the microcontroller module according to the description below, using the included cable:
"-" - GND - system ground
"+" - VCC - power supply in range from 3,3 V to 5,5 V
D - IO digital output (TRIG / ECHO multiplexing)
Technical specifications of the distance sensor from DFRobot
Compatible with Arduino and Raspberry Pi controllers
Module: ultrasonic distance sensor
Embedded chip: URM09
Connector standard: Gravity
Input voltage range: 3.3 V to 5.5 V
Maximum operating current (instantaneous): < 20 mA
Distance measuring range: from 2 cm to 500 cm
Resolution of measurement: 1 cm
Measurement accuracy: 1%
Acoustic frequency: 40 ± 2 kHz
Maximum frequency range: up to 25 Hz
Plug&Play support
Operating temperature range: from -10°C to 70°C
Module dimensions: 47 x 22 mm
Contents of set
Gravity - ultrasonic distance sensor TRIG URM09
Connection cable Gravity
In our assortment you can also find othersensors with Gravity connector. We invite you to familiarize yourself with the offer.