Description: Gravity - I2C ozone sensor - electrochemical - DFRobot SEN0321.
Electrochemical ozone sensor for accurateO3 concentration measurement inthe environment. Compatible with ArduinoandRaspberryPi, the modulecan be used in portable measuring stations and disinfection rooms. Its measuring range is from 0ppm to 10 ppm.It communicates through the I2C interface andhasa built-in Gravity connector for easy connection to the main module. The sensor is poweredfrom 3.3 V to 5.5 V.The sensor has a service life of 2 years.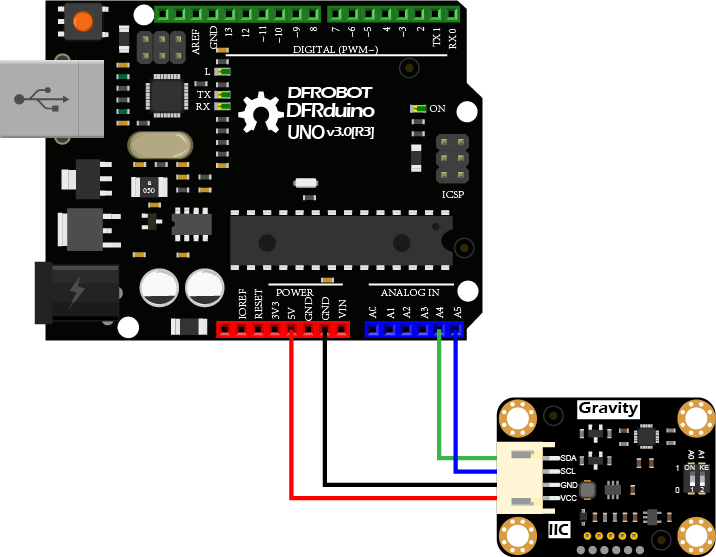 Example of connection with Arduino.
Ozone is mainly formed by the emission of photochemical reactions of NOx, VOC and other pollutants. The acceptable daily ozone concentration standard for humans is 260μg / m3.Too high a concentration may causefatigue, coughing, chest compression, chest pain, wrinkles, nausea and headaches, heart rate increase, memory loss, visual impairment and other symptoms.
I2C ozone sensor, a compatible cable is also included.
Precautions
Do not connect or disconnect sensors on the module.
It is forbidden to interfere with the module electronics.
Avoid contact with organic solvents (silicones and other adhesives), pharmaceuticals, oils and high concentrations of gases.
The module must not be completely immersed in resin and must not be submerged in an anaerobic environment.
The module must not be used for a long time in an environment containing corrosive gas.
The unit should be protected against excessive shocks and vibrations.
The "warm-up" time of the module after the first start-up is 24-48 hours.
Do not tear the white membrane from the sensor.
The module should not be installed in a highly convective environment.
Do not place the module in high concentration organic gas for a long time.
Main functions of the ozone sensor
Measurement of ozone intensity
Built-in Gravity interface
Digital output
Ozone sensor specifications
Supply voltage: 3.3 V to 5.5 V
Interface: Gravity
Communication: I2C
Measuring range: 0 ppm to 10 ppm
Measurement resolution: 0.01 ppm (10 ppb)
Warm-up time: up to 3 minutes
Response time: up to 90 seconds
Recovery time: up to 90 seconds
Operating temperature: -20°C to 50°C
Operating humidity: 15% to 95% RH
Storage temperature: -20°C to 50°C
Lifetime: up to 2 years
Dimensions: 37 x 27 mm
Weight: 22 g
The set includes
Ozone sensor
Gravity cable
Nylon distance M3x10 - 4 pcs.
Mounting screws M3x5 - 8 pcs.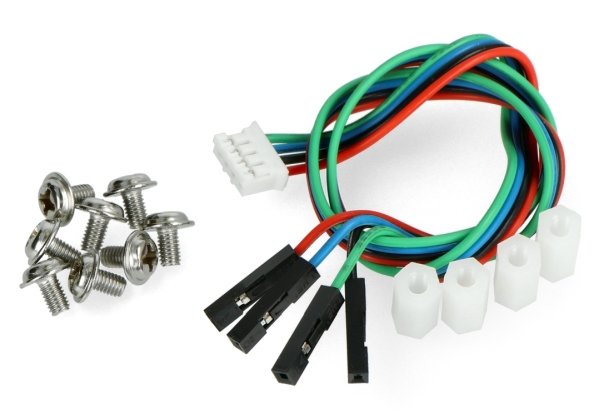 Accessories included in the set.