Description
Dissolved oxygen analog sensor compatible with Arduino. The module measures the concentration of dissolved oxygen in the water to determine its quality. It can be used, for example, in aquariums with fishes, too small content of dissolved oxygen in the water, makes breathing difficult for organisms living in it, which leads to shortening their life. The probe does not require polarization time, it is always available. Solution for filling and membrane cover are interchangeable. Sensor kit for self-assembly.
Example of connecting to Arduino
The board connects to the Arduino module via analog line.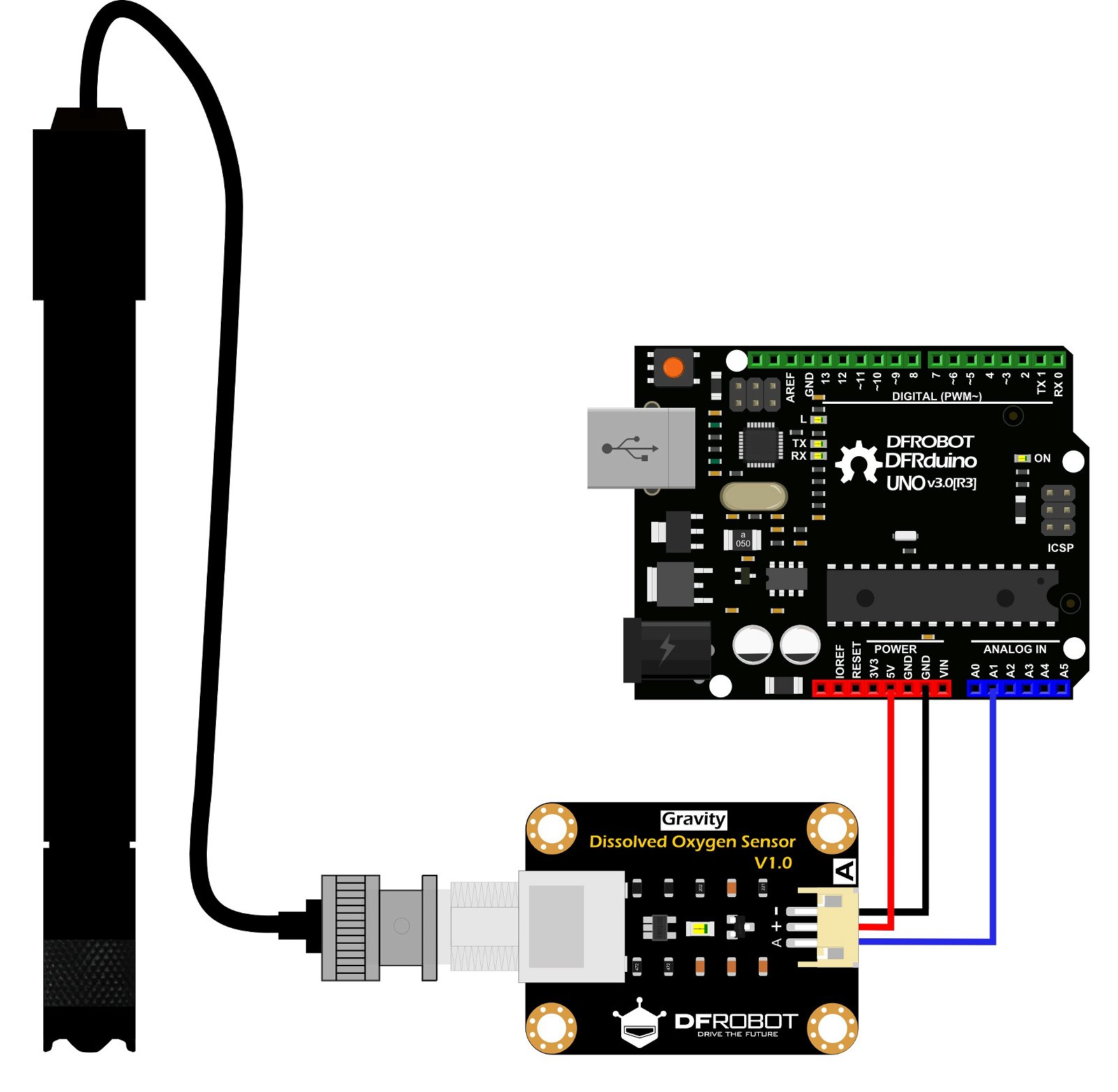 | PIN | Description |
| --- | --- |
| A | The analog output signal from 0 V to 3 V |
| + | Supply voltage from 3.3 V to 5 V |
| - | The ground of the system. |
| BNC | Probe cable |
Due to the policy of export and import, the acidic and alkaline solution can not be transported by air. In this regard, the solution for filling is not included, it must be purchased separately. The device can't work without filling solution.
A chemical solution of 0.5 mol/L NaOH must be purchased separately inthe chemical store.
Note:
The solution is 0.5 mol/L NaOH. Before use, you must fill it to the membrane cap. During operation, care must be taken, the gloves must be worn. If the solution gets on your skin, immediately rinse it off with plenty of water.
The membrane is delicate, you should avoid sharp objects so as not to damage it.
Before use, carefully stir the solution so that the oxygen was evenly distributed in the water.
Specification
Supply voltage: from 3.3 V to 5 V
Output signal: 0 V to 3 V
Probe type: galvanic
Detection range: 0 to 20 mg/L
Response time: up to 98% within 90 seconds
Pressure range: 0 to 50 PSI
The electrode's service life: 1 year
The maintenance period: the period of replacing the membranes: from 1 to 2 months in the muddy water, from 4 to 5 months in clean water
The period of replacing the solution: once a month
Cable length: 2 m
Probe connector: BNC
Signal connector: analog interface Gravity
Dimensions: 42 x 32 mm