Description: Gravity - PAJ7620U2 gesture sensor - DFRobot SEN0315.
ThePAJ7620U2basedgesturesensor allows you to recognize up to 13different hand gestures ata distance of 20 cm. The module communicates using the popularI2Cinterface. The use of Gravity connector makes it easy to connect the module to the motherboard. It is powered by3.3 V or 5 V.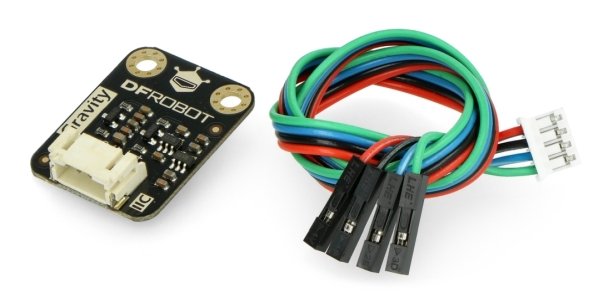 PAJ7620U2 gesture sensor with Gravity cable.
The sensor operates in two modes: slowand fast.The slow mode allows to detect13 gestures,while the fast mode allows to detect 9 gestures.In fast mode, the module recognizes such gestures as: left, right, up, down, forward, back, clockwise, counterclockwise, swipe. Free mode has 4 additional gestures in addition to these 9 basic ones: slow left and right movement and slow up and down movement, slow forward and backward movement and random movement.
Gesture sensor outputs
PAJ76020U2 module with sensor has Gravity connector with I2C interface. It is powered by 3.3 V or 5 V.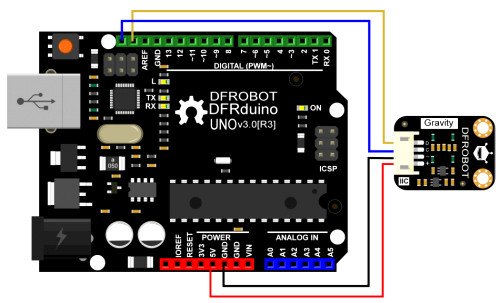 Example of sensor connection.
Pin
Description
D
SDA -

I2C interface data line.

C
SCL -

I2C interface clock line.

-
GND - mass of the system.
+
VCC - supply voltage 3.3 V / 5 V.
Gesture sensor specifications
Power supply voltage: 3.3 V or 5 V
Power consumption: 3.5 mA
Communication: I2C
I2C address: 0x73
Operating modes: slow / fast
Number of recognized gestures: 9 / 13
Detection range: 3 cm to 20 cm
Update frequency: 120 Hz
Light resistance: up to 100 k lux
Dimensions: 30 x 22 mm
The set includes
1x gesture sensor
1x Gravity 4-pin cable