Description
The UV light sensor is powered with the voltage of 5 V. The output is an analog voltage, proportional to the intensity of UV light intensity. The sensor can be used to detect harmful solar radiation.
Specification
System GUVA-S12SD
Supply voltage: 5 V
Output voltage: from 0 V to 1 V (which corresponds to the UV index from 1 to 10)
Working current: 0,06 mA (maximally 0.1 A)
The detectable wavelength: from 200 nm to 370 nm
Accuracy: +/- 1 UV Index
Reaction time: less than 0.5 sec
Operating temperature: -20 °C to 85 °C
Dimensions: 30 x 22 mm
Communication
The device has an analog output signal that can lead, for example, to an analogmodule of Arduino.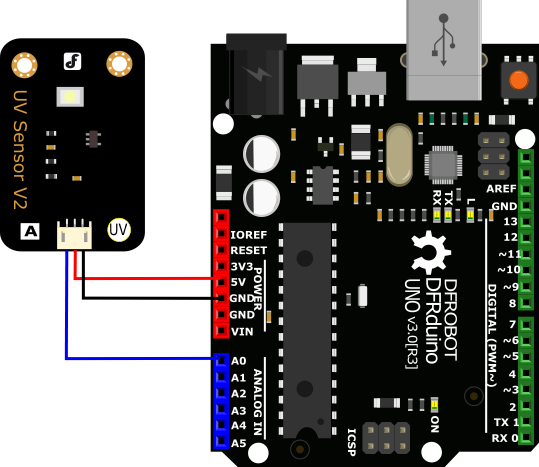 Example of connecting the sensor withArduino, a program to use the device can be found inthe user guide.