Description
The EMG sensor was created through the cooperation of DFRobot and OYMotion. EMG - electromyograph, sensor of electric activity of muscles and peripheral nerves of human. This sensor is a combination of a filtering and amplification chain. It strengthens the minimum value of sEMG in the range of ± 1.5 V 1,000 times and reduces the noise level via the differential input and analog filtering circuit. The output signal is analog, which consumes 1.5 V as the referencevoltage. The output voltage ranges from 0 V to 3 V. The signal's strength depends on the level of activity of the muscles. The waveform of the output signal indicates muscle activity, analyzes, and explores the sEMG. It is compatible withArduino, the supply voltage is from 3.3 V to 5.5 V.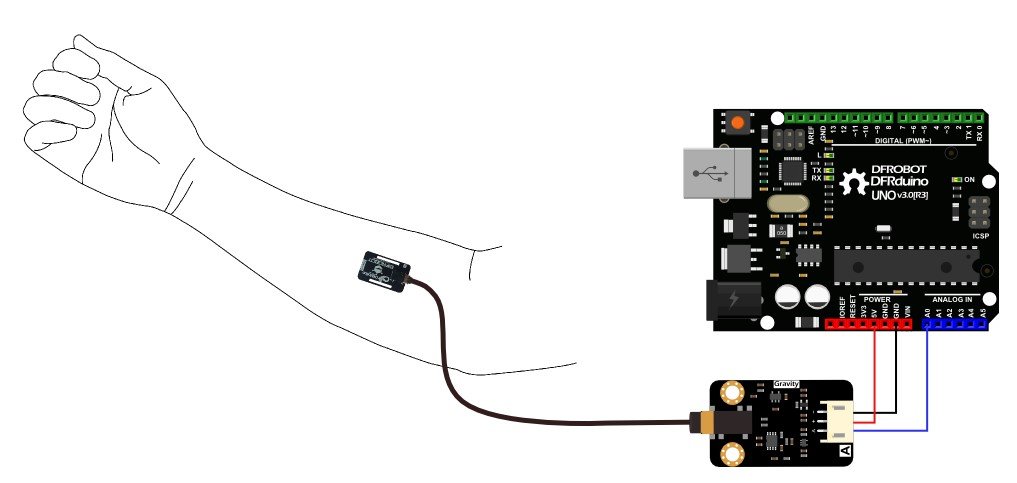 The scheme of disconnecting the EMG sensor from Arduino
Sensor is easy to use, dry electrodes were mounted on a module, good signal quality is ensured without having to use a conductive gel. Measurements with the EMGsensor are non-invasive, comfortable and they can be used in interaction human-computer.
Attention!
supply voltage is from 3.3 V to 5.5 V
the supply current should not be less than 20 mA
disruptive and ripples' current should be as low as possible
putting the metal, dry electrode must be in accordance with the direction of the muscle
the product is not a medical device and it cannot diagnose and treat disease
Key features
Metal, dry electrodes: long service life, easy to use
Differential input 
Low power consumption
Single power supply
Specification
Supply voltage: from 3.3 V to 5.5 V
Working voltage: 3 V
Output voltage: from 0 V to 3 V
Detection range: +/- 1.5 mV
Electrode connector: PJ-342
Connector of the module: PH2.0, 3-pin
Operating temperature: 0℃ to 50

℃

Electrode connector: PJ-342
Cable length: 50 cm
Board sizes: 22 x 35 mm
Weight: 36 g
Set includes
1x board with an EMG electrode 
1x wrist band
1x electrode's cable
1x board to transmit an EMG signal 
1x analog Gravity 3-pin cable