Product description: DFRobot Gravity - MP3 player - JQ8400-FL UART
Module that allows to play music files directly from 8 MB device memory. Supports MP3 and WAV formats. It communicates with the microcontroller via the UART interface - pins RX and TX. Files can be uploaded to the device from a computer using the microUSB port.
Connecting an MP3 player
The module has a Gravity connector. A suitable cable is included to connect the module to the microcontroller.It communicates through the UART interface - pins RX and TX.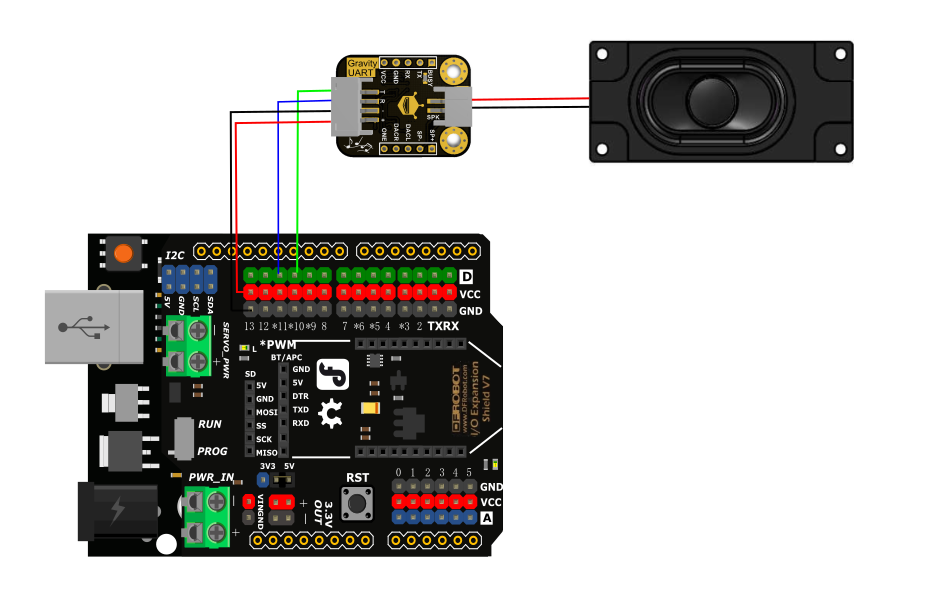 Schematic diagram of the connection with Arduino.
Product compatible with Arduino
Example code and detailed information can be found in user guide.
Technical specification of the module
Supply voltage: from 3.3 V to 5 V
Circuit:

JQ8400-FL

Interface: UART
Supports MP3 and WAV files
Supported sample rate: 8 / 11.025 / 12 / 16 / 22.05 / 24 / 32 / 44.1 / 48 KHz
Support to emulate SPIFLASH on U disk, audio in SPIFLASH can be upgraded to work with USB flash drive
30 levels of volume control
Dimensions: 22 x 30 mm
Set contains