Product description: Gravity - Speech Synthesis Module - speech synthesis module - English and Chinese language support - DFRobot DFR0760
Speech Synthesis Module isa speech synthesis module thatsupports two languages -EnglishandChinese. Manufactured by DFRobot, it uses theI2CandUARTinterface to communicate with the controller module. Once connected, the module converts the written text into speech - it is equipped with a loudspeaker, so you do not have to buy it separately. In addition, there is aGravityconnector on the board.
Suggested use
Voice broadcast
Voice prompt and automatic text reading
Robot voice
Text-to-speech processing
The product is compatible with Arduino
A detailed user guideis available on the manufacturer's website, which makes it much easier to start working with the module. It contains, among others, a description of the leads, connection instructions, as well as programming facilities in the form of a library and sample program codes for Arduino.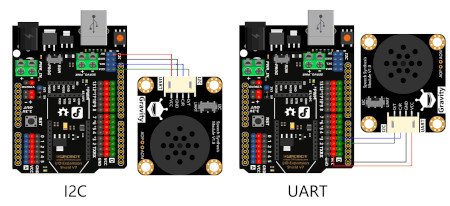 Scheme of connection of the Speech Synthesis Module with the board from DFRobot, which is a derivative of Arduino. The plate can be purchased separately.
Description of the pins, speech synthesis module from DFRobot
D / T:

D - SDA - data line of the I2C interface
T - TX - UART interface line

C / R:

C - SCL - clock line of the I2C interface
R - RX - UART interface line

GND - the ground of the system
VCC - power pin from 3.3 V to 5 V
AOP - Audio Out (+)
AON - audio output (-)
Technical specification of the Speech Synthesis Module
Type: speech synthesis module
Supported languages: English and Chinese
Module power supply: from 3.3 V to 5 V
Working current: <50 ma="" li="">
Communication interface: I2C / UART
Connector technology: Gravity
Operating temperature range: -40 ° C to 85 ° C
Operating humidity range: 5% to 85% RH
Module dimensions: 37 x 32 mm
Kit contents
Gravity - Speech Synthesis Module - speech synthesis module
Gravity connection cable