Product description: Gravity - analog temperature and humidity sensor - SHT30 - DFRobot DFR0588
Analoguetemperaturesensorihumiditymanufactured by DFRobot. The module is equipped with a high quality new generationSHT30chip from Sensirion. It uses CMOSens technology, guaranteesreliabilityand long-term measurement stability withlow power consumption. It has a fast response time and high resistance to interference.The sensoris internally calibrated, linearized and amplified. Compatible with controllers operating at3.3 V / 5 V, which include Arduino, ESP32 or micro:bit. SHT30 sensor allows you to measure the temperature in the rangefrom -40 ° C to 125° C and humidity in the rangefrom 0% to 100% RH.
Compatible with 3.3 V / 5 V controllers
The manufacturer provides a detaileduser guide, which greatly facilitates getting started with the module. It includes instructions for connecting the sensor and sample program codes.
Special features
Internal self-calibration, linear analogue voltage output
High precision measurement, low power consumption, fast response time
Sensor compatible with controllers operating at 3.3 V / 5 V
Suitable for applications such as urban environment monitoring, smart home and building projects, and general industrial automation
Set contents
Gravity - analog sensor of temperature and humidity
Gravity connection cable - 2 pcs.
Goldpin strip 1x4
Leads description and connection diagram
The sensor has a Gravity connector, which improves and accelerates the process of connection, and soldering fields, where you have to solder the goldpin 1x4 included in the set. The user can choose the way of connection according to individual needs and design assumptions. The modules should be connected according to the relation:
"-" - GND - system ground
"+" - VCC - power supply in range from 3,3 V to 5,5 V
RH - analogue humidity measurement output
T - analog output for temperature measurement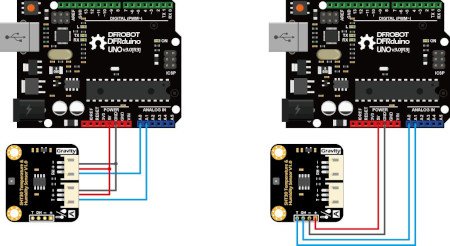 Connection diagram usingDFRduinoboard - Arduino derivative.
Technical specification of the sensor
Type: analog temperature and humidity sensor
Embedded chip: Sensirion SHT30
Input voltage range: 3.3 V to 5.5 V
Connector: Gravity / solder fields
Resting current: < 0.5 mA
Temperature:

measuring range: -40°C to 125°C
measurement resolution: 0.01°C, 14 bits
accuracy of measurement: ± 0.2°C from 10°C to 55°C / ± 1.5°C from -40°C to 125°C
response time > 2 s

Humidity

measuring range: from 0% to 100% RH
Measurement resolution: 0.006%, 14 bits
Measurement accuracy: ± 3% RH from 10% to 90% RH / ± 8% RH from 0% to 100% RH
Response time: > 8 s

Module dimensions: 30 x 32 mm
Weight: 4 g