Product description: Grove - HP206C - I2C pressure sensor.
High quality sensor equipped withHP206Csystem for measuring atmospheric pressure, Grove brand. It has a wide measuring range from300 hPato 1200hPa.It is fully compatible withArduino, it is connected to it by means of digitalI2Cinterface. The sensor is characterized by low power consumption, it additionally includes temperature measurement and altimeter. The system tolerates input voltage from 1,8 V to 3,6 V. However, with the external circuit added, this module allows for 3.3 V and 5 V.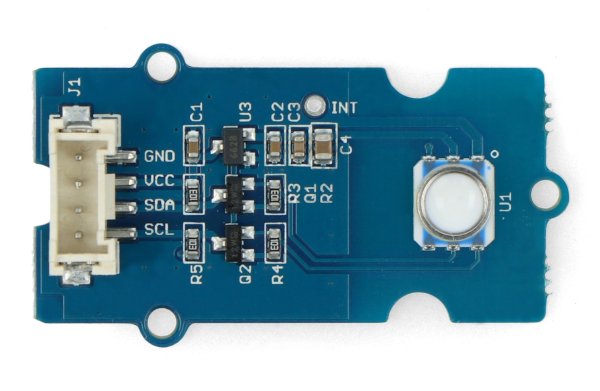 Grove - pressure sensor.
| Downloads | Description |
| --- | --- |
| VCC | 5 V power supply for the system |
| GND | GND Weight |
| SCL | Analogue A1, data line |
| DAT | Analogue A0, clock line |
Sensor functions
The sensor is calibrated at the factory
I2C digital interface
Programmable events
Wide range of measurement value
Flexible supply voltage range
Ultra - low power consumption
Includes temperature measurement
Includes altimeter
Sensor application
High-precision barometers, altimeters
Industrial pressure and temperature sensor systems
Automotive systems
Sports watches
Medical gas control systems
Weather station equipment
Ventilation, heating, air-conditioning systems
Grove pressure sensor specification
| Name | Description |
| --- | --- |
| Supply voltage | From 1.8 V to 3.6 V |
| Current intensity | From 635 uA to 1100 uA |
| Operating temperature | From -40°C to 85°C |
| Wide measuring range | From 300 hPa to 1200 hPa |
| Input interface | I2C |
| Dimensions | 40 mm x 20 mm |
Included:
Pressure sensor

Female to female, 4-pin, 20 cm long cable for connection to Base Shield v2.0