Product description: LongWei PS3010DF precision laboratory power supply 0-30 V 10 A
Laboratory powersupply with precision voltage and current regulation function. LongWei PS3010DF is equipped with two potentiometers:Coarse, is used to set the "coarse" output voltage and current, whileFineallows precise adjustment of these values. The power supply enables adjustment of voltage within the range from0 V to 30 Vand current within the range from0 A to 10 A. The device supportsC.V mode(output voltage stabilisation) andC.Cmode(output current stabilisation), whose operation is indicated by LEDs. The PSU is equipped with a three-level LED display, which displays current, voltage, current and power parameters. The PS3010DF has aUSBtype Asocketon the front panel.
Description of the control buttons of the laboratory power supply
C.V (Constant Voltage) - input voltage stabilization indicator
C.C (Constant Current) - output current stabilization indicator
V-COARSE - "coarse" adjustment of the output voltage
V-FINE - precise adjustment of output voltage
A-COARSE - "coarse" adjustment of output current
A-FINE - fine adjustment of output current
USB Type A connector - 5 V / 2 A
ON / OFF - Power on button
Black socket (Output Terminal Negative) - "-" output terminal
Yellow socket (Output Terminal Ground) - Ground terminal
Red socket (Output Terminal Positive) - "+" output terminal
Specifications of the LongWei PS3010DF laboratory power supply
Output Voltage Range: 0V to 30V
Output current range: from 0 A to 10 A
Operating parameters:

AC voltage 220 V / 110 V ± 10% (switch on the back of the case)
Operating temperature: -10°C to 40°C, relative humidity: ≤ 80% RH
Storage temperature: -20°C to 80°C, relative humidity: ≤ 70% RH

Output power: up to 300 W
Ripple and noise in C.V and C.C mode

Voltage: ≤ 20 mVrms
Current: ≤ 20 mArms

Parameter setting accuracy

Voltage: 0.01 V
Current: 0.01 A

Stabilization factor

Voltage (C.V): ≤ 0.1% + 10 mV
Current (C.C): ≤ 0.1% + 10 mA

Load Stabilization Factor

Voltage (C.V): 0.1% + 5 mV
Current (C.C): 0.1% + 10 mA

Built-in protection against exceeding the permissible values

OCP - overcurrent protection
OVP - voltage protection
OTP - temperature protection
OPP - overload protection

Type A USB port located on the front panel
Built-in fan in the back panel
Handle for transporting the device
Dimensions: 285 x 125 x 145 mm
Weight: 1.95 kg
Contents of the set
LongWei PS3010DF laboratory power supply
Power cord
Crocodile - banana cables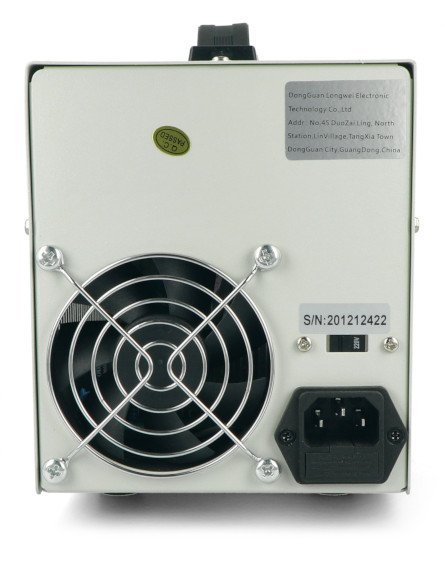 View of the rear part of the device.