Product description: FLUX Beamo - laser cutter and engraver
The Beamo laser cutterand engraver from Flux. It is equipped with a 30 watt laser diode that allows you to cut and engrave up to 5mm deep in a wide range of materials. These include organic materials such as leather, wood, bamboo and cardboard. Beamo can also engrave in anodized aluminum and stainless steel. Thanks to its special design, can be used both for professional and amateur use. It offers a working area of 300 x 210 x 45 mm, and the user-friendly Beam Studio software, supplied in the package with the device, makes your work easier. With its help you will realize your projects and bring any model to life. Beam Studio allows you to create projects in a graphic editor such as Adobe Illustrator, AutoCAD, Inkscape, CorelDRAW or even Microsoft Word or PowerPoint.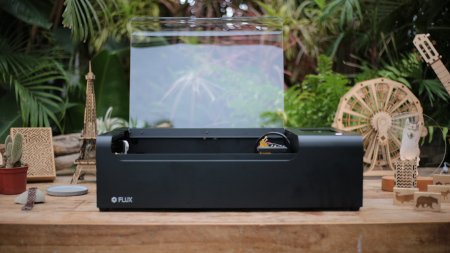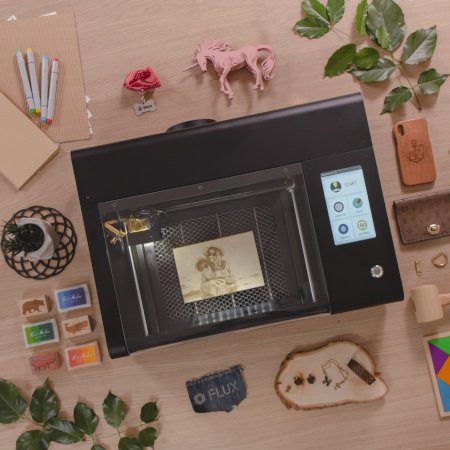 Wide range of capabilities of the Beamo cutting and engraving machine
The Beamo cutter is small and compact, but its small size does not affect its functionality. It makes fast and precise cuts on materials, with special attention to the details of projects. It allows you to make elements such as:
An intricate pattern in wood
Personalized design on glass and spoon
Pattern on a phone case
Clothing decoration
Intricate text on anodized aluminium
Paintings and wall decoration
Engraving on padlock and key
High quality components
The device has high quality rails, which provide stability and precision, and a 30-watt laser diode. The laser used engraves in vector and raster mode with a resolution of 1000 DPI, and its thickness is smaller than a human hair.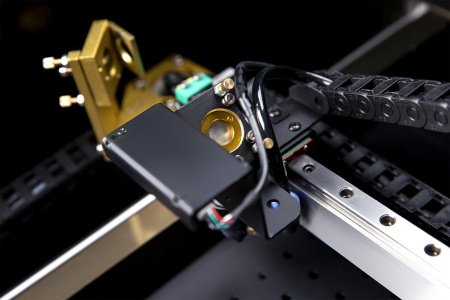 Intuitive and easy to use
On the front of the Beamo cutting and engraving machine there is a 1024 x 600 px LCD touch panel which allows to control the device. A built-in HD camera allows you to view the inside of the chamber and precisely set the working parameters.
Beam Studio
Beam Studio is an intelligent, user-friendly software. It gives the user access to a number of editing possibilities and allows him to use all the functions offered by Beamo. It is compatible with Windows, macOS and Linux. It uses Wi-Fi or Ethernet connectivity and can connect to your personal hotspot. A great advantage is the support of files in JPG / PNG / SVG / DXF format, which allows you to create and realize projects made in programs such as Adobe Illustrator, AutoCAD, Inkscape, CorelDRAW and even Microsoft Word or PowerPoint.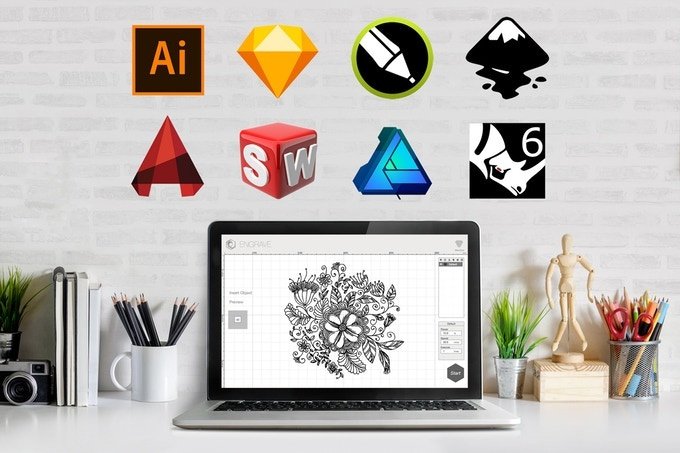 Step by step instructions
Create your own project or import JPG / PNG / SVG / DXF files.
Use Beam Studio software to set cutting and engraving parameters, adjust power level and set speed.
The preview of the workspace will show you what the final result of your project will look like.
If you are satisfied with the preview, press the START button.
Beamo rotary attachment
The Beamo rotary attachment is also available in our shop. This product is easy to install and allows you to extend the scope of your work. It is responsible for rotating the object while working, which enables making engravings on curved surfaces. It proves useful for engraving, among others, glasses and bottles.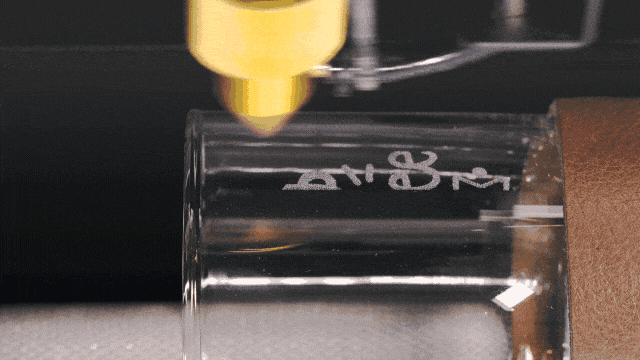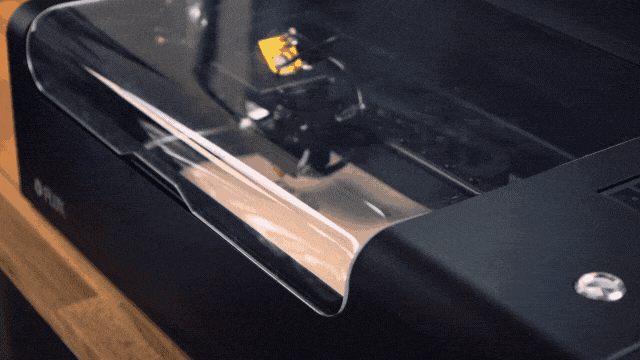 Advanced safety system
Beamo incorporates a number of protective mechanisms that ensure safety while using the machine. They minimize the occurrence of possible accidents during operation:
Full enclosure - a fully enclosed working area means that the user is not exposed to the laser light.
Water cooling - closed water circulation cools the unit and keeps all components at the right temperature.
Intelligent Sensor - operation stops when the cover is opened.
Emergency power switch - immediately switches off the appliance.
Integrated ventilation system - the fan generates 200 CFM and a 12 cm diameter hose exhausts smoke and fumes through a vent or window.
Contents of the kit
Beamo laser cutting and engraving machine
Work table - honeycomb 30 W
Supply tube 200 cm + ring clamp
Wifi Dongle USB
Laser cutting machine grease
Mirror alignment tape
Pack of wrenches and additional tools
Distilled water used in the cooling system is not included, please top it up immediately before first use.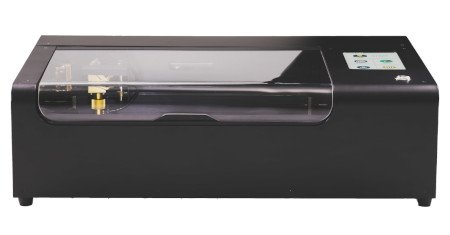 Technical specification and comparison between Beamo and Beambox
Basic information
Model
Beamo
Beambox
Beambox PRO
Laser system
Source
CO2 glass tube
CO2 glass tube
CO2 glass tube
Power
30 W
40 W
50 W
Wavelength
10640 nm
10640 nm
10640 nm
Speed of movement
0 to 300 mm/sec
0 to 300 mm/sec
0 to 300 mm/sec
Cutting thickness
from 0 to 5 mm (depending on the material)
0 to 10 mm (depending on the material)
0 to 12 mm (depending on the material)
Workspace
Workspace
300 x 210 x 45 mm
400 x 375 x 80 mm
600 x 375 x 80 mm
Maximum depth of object
45 mm
80 mm
80 mm
Compatible materials

rubber
stopper
plastic
plexiglass
acrylic
textiles
natural leather
leather-like material
ceramic
wood
other non-metallic materials
coated metal
paper
plywood
laminate

rubber
cork
plastic
plexiglass
acrylic
textiles
natural leather
leather-like material
ceramic
wood
other non-metallic materials
coated metal
paper
plywood
laminate

rubber
cork
plastic
plexiglass
acrylic
textiles
natural leather
leather-like material
ceramic
wood
other non-metallic materials
coated metal
paper
plywood
laminate

Camera
Camera type
HD CMOS
HD CMOS
HD CMOS
Observable space
300 x 195 mm
400 x 360 mm
600 x 360 mm
Device support and hardware requirements
Operating panel
LCD touch panel
1024 x 600 px
LCD touch panel
1024 x 600 px
Touch Panel LCD
1024 x 600 px
Interfaces
USB / Ethernet / Wi-Fi
USB / Ethernet / Wi-Fi
USB / Ethernet / Wi-Fi
Software
Beam Studio
Beam Studio
Beam Studio
File types
JPG / PNG / SVG / DXF
JPG / PNG / SVG / DXF
JPG / PNG / SVG / DXF
Software applications

vector graphics
monochrome graphics
greyscale

vector graphics
monochrome graphics
greyscale

vector graphics
monochrome
grayscale

Operating system
Windows / macOS X / Linux
Windows / macOS X / Linux
Windows / macOS X / Linux
Power supply
220 V / 110 V AC
220 V / 110 V AC
220 V / 110 V AC
Dimensions & Weight
Dimensions
615 x 445 x 177 mm
250 x 830 x 670 mm
250 x 1030 x 670 mm
Air outlet diameter
100 mm
100 mm
100 mm
Weight
22 kg
40 kg
48 kg