Product Description: Air filter FLUX Beam for laser cutters - 100 mm
FLUX Beamairfilter forlaser cutting and engravingmachines with anair outlet diameter of 100mm. It is compatible withBeamo,BeamboxandBeambox Proamong others. It usesa 4-layer filtration system, which blocks99.97% ofimpurities with a particle size of 0.3 μm. It also prevents the ingress of unpleasant odors generated during laser engraving. Airflow is165 liters per second and a built-in knob allows you to control ventilation and reduce noise. Dirt is removed through theexhaust pipe, which is included in the cutter kit. It can also be purchased separately in our store. FLUX Beam is equipped withwheelsfor easy movement. The device is connected to the laser cutter with aUSB B cable.
Four filtration layers
FLUX Beam consists of four filtering layers:
Pre-filter- captures smoke and dust, recommended replacement after 10-30 hours of operation
Medium performancefilter - recommended to be replaced after 50-150 hours of operation
Activated carbonfilter - removes harmful gases, recommended replacement after 300-600 hours of operation
HEPA filter H13- filters up to 99.97% of particles size 0.3 μm, recommended replacement after 100-200 hours of work
Technical specification
Voltage: 110 V / 220 V AC
Power: 180 W
Outlet diameter 100 mm
Airflow: 350 CFM
Filtering: 99.97% of the pollutants with a size of 0.3 μm
Dimensions: 470 x 260 x 490 mm
Weight: 17 kg
Contents of the kit
Housing with wheels FLUX Beam
Pre-filter - 4 pieces.
Medium performance filter - 1 szt.
Activated carbon filter - 1
HEPA filter H13 - 1 pc.
Power cord
Connecting cable USB B
User manual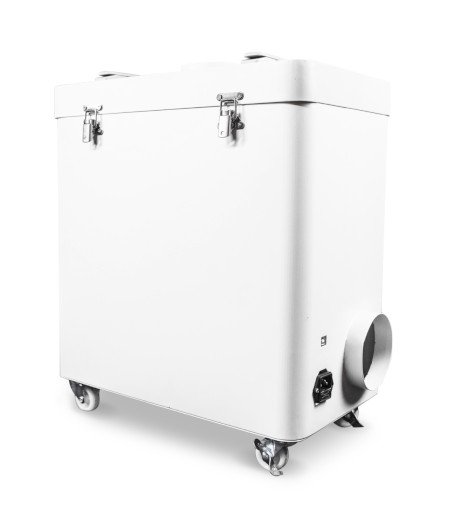 Built-in wheels allow you to comfortably move the device.