Product description: Rooster signal lamp - LED 230V
Signal lamp popular in door automation. Its main advantages are quiet operation, very bright orange light and failure-free operation. The device is visible in an instant and provides a high level of safety. Thanks to the use of LED technology and electronic interrupter, the lamp has a long service life of up to 100 000 hours.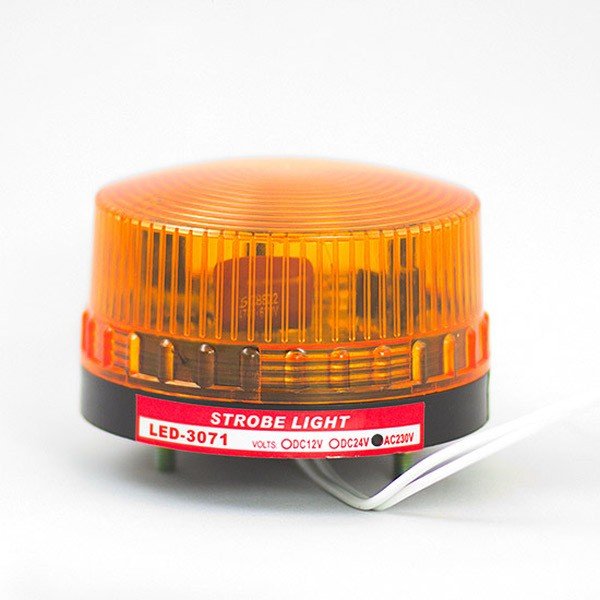 Main features of the signal lamp
Lifetime: up to 100,000 hours
Very bright LEDs
Tight housing
Current consumption: approx. 150 mA
Diameter: 7.5 cm
Power supply 230 V AC (alternating current)
The lamp is ready for immediate installation
Signal lamp for gates
When installing door automation systems, safety considerations are important. Ideally, if both closing and opening of the door leaf is signalled by appropriate traffic lights. This is important for cars waiting to enter or leave, as well as for pedestrians or vehicles in the vicinity.
Rooster signal lamp - LED 230V ready for installation definitely facilitates the execution of light signalling. The diameter is 7.5 cm, so it will fit universally to many gate automation systems.
Durable and quiet lighting
The LED rooster has a very long service life - up to 100 000 hours of operation. The lighting is designed to be supplied with standard mains voltage (230 V AC) and takes 150 mA.
High brightness makes the lamp perfectly visible even from a distance and in worse weather conditions. The LED rooster is also equipped with a tight housing, effectively protecting against moisture, rain and snow. Silent operation of the lamp will not interfere with the night silence, so this model can be successfully used in home installations.