Product description: FDI 1500 N 20 mm/s 24 V electric actuator - 30 cm extension
A professional industrial actuator powered by24 V, suitable forheavy duty applications.The FDI actuator is characterized by top-level parameters, perfect workmanship and very high reliability. It has aload capacity of 1500 N (150 kg), operatesat20 mm/sec. The maximum current consumption is 3 A. The actuator has aprotectionclassIP42. The actuator has IP42 protection class. The length of itsextensionis30 cm.Limit switchesprotect against exceeding the extension range.
The devices are available in different variants:
FDI cylinders are characterized by quiet and stable operation, thanks to the use of high quality materials and their precise fit. Itspower of 50 Wensures that the actuator canwithstand high loads underextreme operating conditions.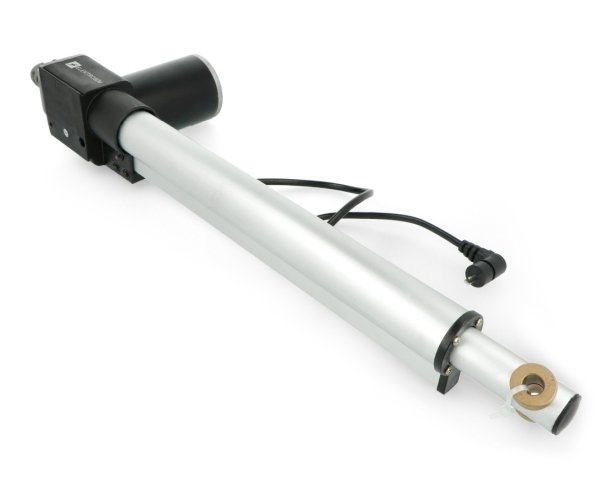 FDI 1500 N 20 mm/s 24 V - 30 cm extension.
Applications for FDI electric actuators
Thanks to the high quality materials used, the FDI actuator series has a very versatile application. It is ideal forindustrial automationin factories, warehouses, etc., but is also suitable as an actuator forbeds or operating tables. It will also find its place in thehousehold.
24 V linear actuator specification FDI 1500 N 20 mm/sec.
Name
Parameter
Supply voltage
24 V DC
Speed
20 mm/s
Maximum power
1500 N (150 kg)
Maximum supply current
3 A
Power supply
50 W
Extension length
300 mm
Overall length in assembled condition L(min

)

475 mm
Leakage class
IP42
Operating temperature
From -5°C to 45°C
Limit switches
Yes