Product description: Electric actuator LA-T5P 500 N 30 m/s 12 V with potentiometer - 15 cm extension
Linear actuatorpowered by 12 V with potentiometer.The permissible extension is 15 cm and is limited by twolimit switches. The permitted lifting capacity of the actuator is 50 kg(500 N).The product has a protection class IP65 and can be installed in areas exposed to high humidity.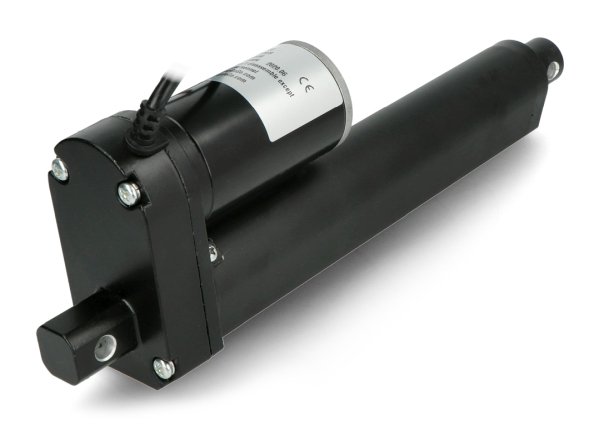 LA-T5P 500 N electric actuator 30 m/s 12 V with potentiometer - 15 cm extension.
The most common application of actuators
Photovoltaics - adjustment of solar panels position
Flaps and plows in motor vehicles
Industrial and agricultural machinery components
Industrial automation - tilt windows and doors
Opening and closing of industrial valves
As inDC motors,the direction is changed by reversing the polarity.
Scheme of potentiometer outputs
The potentiometer used in the LA-T5P hasthree outputs, which must be connected according to the following diagram.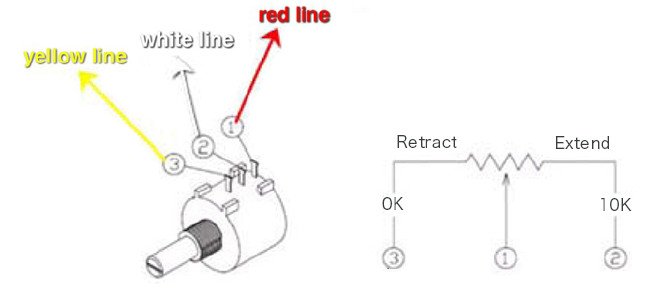 Theoutputs of the potentiometer in the LA-T5P actuator.
LA-T5P 3500 N linear actuator specifications
Name
Parameter
Supply voltage
12 V DC
Speed
30 mm/s
Maximum power
500 N (50 kg)
Duty cycle
25%
Extension length
150 mm
Total length when folded in
305 mm
Operating temperature
from -25°C to 65°C
Safeguards
Limit switches
Leakage class
IP65

Dimensions of the LA-T5P linear actuator.