Product description: Electric actuator CAR+ 1000N 9mm/s 24V - 40cm stroke
The CAR+electric actuator is a proven alternative to the Super Power Jack series of actuators. The actuator's construction is made of metal, which makes the actuator mechanically strong, which translates into the safety of the whole system. The actuator has IP53 protection rating, lifting capacity of 1000 N (100 kg) and stroke speed of 9 mm/s. The actuator is powered by 24 V and has a maximum extension of 40 cm which can be controlled by means of limit switches.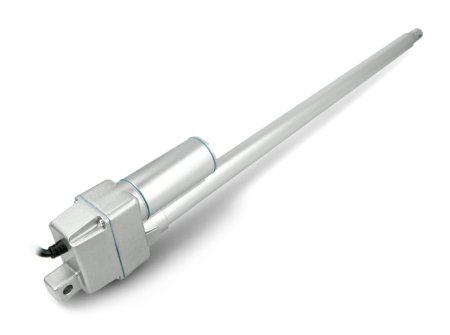 Linear actuator CAR+.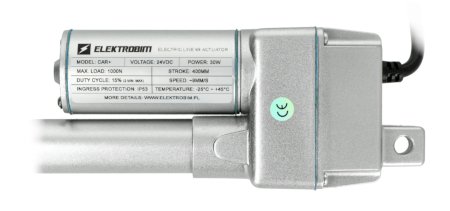 Metal electric actuator CAR+.
Application of the linear actuator CAR+
Agriculture - orchard platforms, ploughs, path control, sprayers, chicken coop doors, etc.
Household - DIY, desks, tables, beds, flaps, windows
Vehicles - trunk opening, hatch, gas control
Industry - production lines
CAR+ advantages
Very good workmanship
Stable operation
Rear attachment
Rated voltage 24 V
High resistance to weather conditions
Extension freely adjustable
Versatile and universally applicable
Specification for CAR+ actuator
Supply voltage
24 V
Maximum current
1,5 A
Load capacity
1000 N (100 kg)
Extension
40 cm
Pull-out speed (no load)
9 mm/s
Protection class
IP53
Protections
limit switches
Duty cycle
20% (max. 2 min. continuous operation)
Working temperature
from -25°C to 45°C