Description: DFRobot micro:Maqueen Mechanic - Push - servo kit - bulldozer - DFRobot ROB0156-P
A set of accessoriesfor the educational robotmicro:Maqueen. The kit includes aservowith0° to 180°operation, a servo holder and building blocks to create a bulldozer arm. Combined with the micro:Maqueen educational robot, the kit can be used for educational and recreational purposes such as holding a mini soccer match or cleaning sports facilities and clearing snow from roads. Programmed withMakeCodeblock coding, which is useful when teaching programming to the youngest users.
Note:
This kit does not include theMaqueen Plusplatform, Maqueen Lite, BBCmicro:bitminicomputer, orbattery. Components can be purchased separately in our shop. Please check theBBC micro:bit offer for more details.
Servo Specifications
Working range of the servo: from 0° to 180°
Servo weight: 12 g ± 1 g
Bulldozer arm elements made of high quality material
Colour of the elements: black
Material: aluminum alloy, sandblasted
Standby current consumption: up to 45 mA
Control ports: S1, S2, S3 (with Maqueen Plus robot)
SupportsMaqueen Plus, Maqueen Lite and newer
Kit contents
Servo
Metal parts that make up the bulldozer arm:

base,
arm side plates - 2 pieces

4-pin connection cable
Mounting elements:

copper spacer M3 x 25 mm - 2 pcs.
screw M2.5 x 5 mm - 5 pcs.
screw M3 x 5 mm - 10 pcs.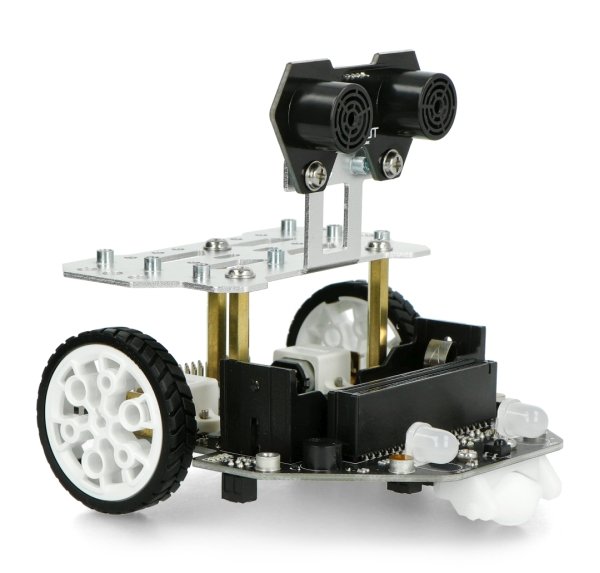 Educational robot micro:Maqueen Plus. The robot is not included in the set, you can buy it separately in our shop.
Maqueen Plus - an advanced educational robot platform from DFRobot
MaqueenPlusis an advanced robot platform designed to work with the BBC micro:bit module. The robot is equipped with high quality components that enable it to recognize objects using AI (artificial intelligence). It is designed for intermediate to advanced users. For beginners starting their adventure with BBC micro:bit robots we recommend the basic version -Maqueen Lite.