Product description: Kitronik GAME ZIP 64 - console for BBC micro:bit
Portable consoleKitronik GAME ZIP 64compatible with BBCmicro:bitmodules.The versatile platform, which allows you to run popular retro games, is equipped with a matrixLED screen with 8 x 8addressed diodes, so you can play classics such as Snakeor Pong.
Attention!
BBC micro:bit module is not included. It must be purchased separately.
Ergonomics and functionality
Kitronik GAME ZIP 64console has four directional buttons, two action buttons and a buzzer to play sounds. On the surface of the board is mounted a vibration motor to createfeedbackin the form of vibrations, known from the controllers popular on the console market. On the underside of the console there are threeAA batterybaskets, two of which are arranged in such a way as to act as handles at the same time,thanks to this solution the console lies securely and comfortably in the hand, providing high comfort while playing. You can use the MakeCodeandMicroPython block environment when creating games.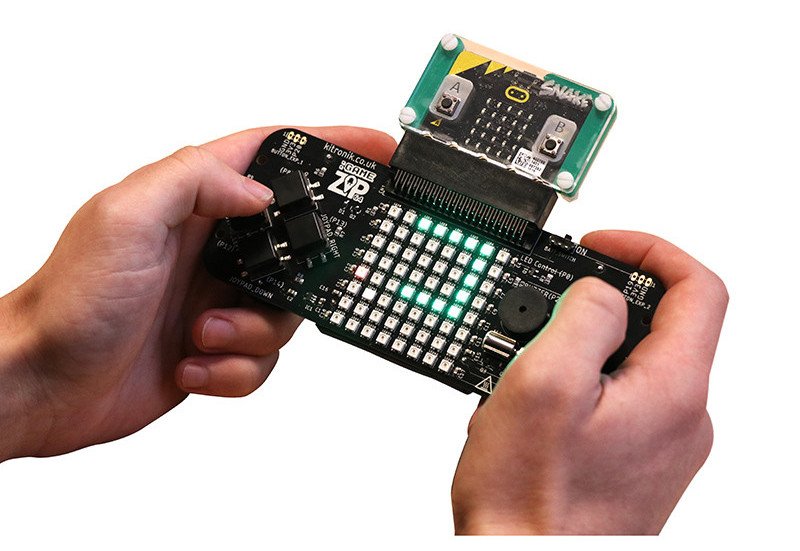 The cult Snake game launched on Kitronik GAME ZIP 64 console.
GAME ZIP 64 console specifications
Power supply: 3x AA battery
Compatibility: BBC micro:bit (not included)
The screen: Matrix LED (8 x 8 diodes)