Description: BitPlayer - controller, extension for BBC micro:bit
BitPlayer extension for the BBC micro:bitto create your own wireless gaming controller. The board works on thePlug & Playprinciple, it has a 2-axis joystick, 6 programmable buttons, a buzzer,a vibrating motor and a Grove I2C sockettoconnect additional elements such as an OLED display. It supports graphical MakeCode programming. The extension is powered by 2AAA batteries. Micro:bit allows communication withina range of about 10 meters.
Main features of BitPlayer module
Simple Plug & Play installation
Equipped with buzzer and vibrating motor
Powered by 2 AAA batteries or microUSB cable
Equipped with Grove I2C socket
Compatible withMicrosoft MakeCode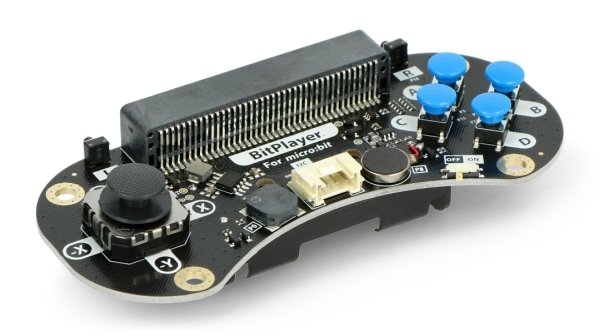 BitPlayer - controller for BBC micro:bit.
Set contents
BitPlayer specification
Power supply: 5 V / 1.5 A
Power source:
Built-in buzzer
Built-in vibrating motor
6 programmable buttons
2-axis joystick
Grove I2C socket
Dimensions: 110 x 52 mm
Weight: 65 g