Product description: MP34DT01-M - PDM MEMS Microphone - Adafruit 3492
MicrophoneMEMS based on PDM(Pulse Density Modulation) signal. It has a built-inMP34DT01-Mmodule, and communication is via the PDM interface. The signal to noise ratio SNR is 61 dB. It operatesfrom1.8 V to 3.3 V.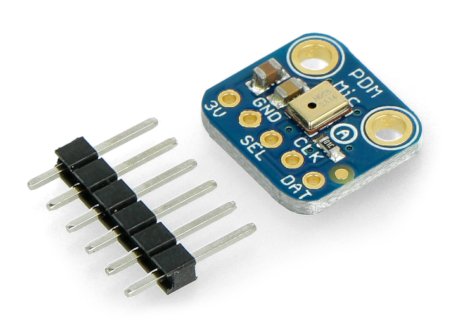 The module has solder fields to which you should solder included goldpin connectors.
Technical specification
Voltage range: from 1.8 V to 3.3 V
Clocking: from 1 MHz to 3.25 MHz
Current consumption: 0.6 mA
Signal to noise ratio SNR: 61 dB
Sensitivity: -26 dBFS
Communication interface: PDM
Pinouts:

3 V - power supply
GND - ground
SEL - channel selection, in low state transmitting to the left channel and in high state to the right channel
CLK - PDM clock input, square wave from 1 MHz to 3 MHz required
DAT - PDM data output

Dimensions: 14 x 12.8 x 2.8 mm
Weight: 0.5 g
Included goldpins for self-soldering