Product description: Fermion - 3 Watt mini stereo audio amplifier - DFRobot DFR0119-O
Aministereoaudio amplifier that allows you to connectspeakerswith a power of3 Wand an impedance of4 Ohms. The module has been manufactured by DFRobot. Equipped with two channels: right and left, which can emit stereosurround sound. Small dimensions and convenient spacing of mounting holes and leads allow to mount the element on any device. It is used invoice systemsin robot projects, DIY music boxes or scenarios involving sound modification.
Mini stereo audio amplifier hastwo modes: sleep mode and working mode. When SHDN pin is in low state (0 V) - the amplifier's polarity circuit will be closed, and then the module will go into sleep mode. On the other hand, when SHDN pin is in high state (5 V) - the operation mode will be enabled. The stereo audio amplifier is set by default to run mode.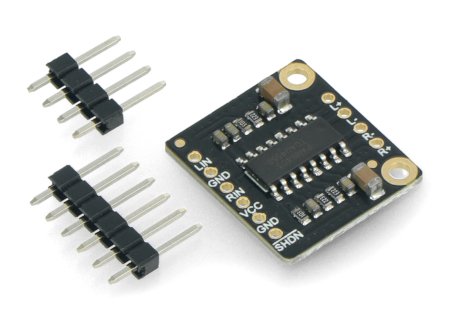 The kit contains the appropriate goldpin connectors, which you have to solder yourself.
Wiring rules
Positive and negative poles cannot be connected in reverse
Negative poles for the high and low channels are independent, they shouldn't be connected together
Supply voltage should not be higher than 5.5V, because too high a voltage will cause permanent damage to the chip
Technical specification of the amplifier
Type: mini audio stereo amplifier
Power supply: from 3.6 V to 5.5 V DC
Output power: 3 W (4 Ohm) 5 V
Amplifier class: D
Supports two channels: left and right
Two operating modes: sleep mode / working mode
Efficiency: > 90%
Module dimensions: 15.5 x 24 mm
Mounting holes diameter: 2 mm
Solder field spacing: 2.54 mm
Weight: 7 g
Kit contents
Mini stereo audio amplifier 3 W from DFRobot
Connector goldpin - 2,54 mm pitch:

1x4 pin - 1 pcs.
1x6 pin - 1 pc.