Product description: Fermion - DFPlayer Pro - Dual channel mini MP3 player with 128MB onboard memory - DFRobot DFR0768
A dual channelmini MP3 playermanufactured by DFRobot. It can be operated in four ways: with Arduino (and related boards), viaATcommands, withADKEYkey or physically with the use of functionbuttonsplaced on the board. DFPlayer Pro has128 MB of built-in memory, so it can be used directly and without the need for an FT card. In addition, the module is equipped with aUSB Type Cconnector, with which you can easily transferaudio files. An unquestionable advantage is also a function that allows you to rewind and fast forward the song.
Contents of the set
Fermion - DFPlayer Pro - mini MP3 player
Goldpin strip with 2.54mm pitch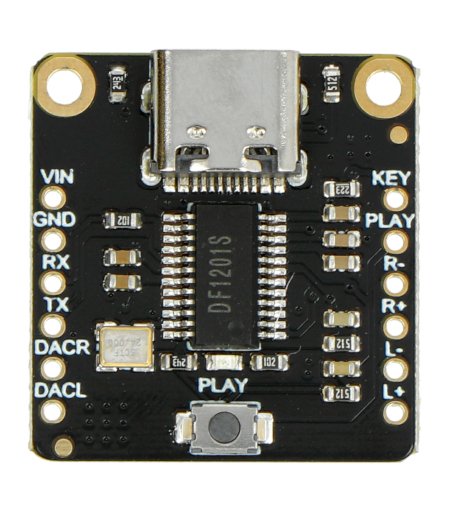 Fermion - DFPlayer Pro - mini MP3 player.
Arduino compatible product
A detaileduser guideis available on the manufacturer's website, which makes getting started with the module much easier. It contains, among others, pinout description, connection instruction and programming background in form of library and sample program codes for Arduino.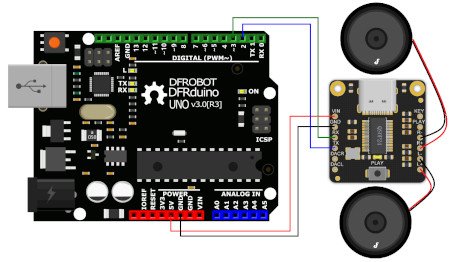 Scheme of connecting mini-player withDFRduinoboard, which is Arduino derivative. The subject of sale is DFPlayer Pro - other components should be purchased separately.
Pinouts and schematics
VIN - power supply pin 3.3 V / 5 V
GND - system ground
RX - UART interface line - receiver
TX - UART interface line - transmitter
DACR - DAC converter output
DACL - DAC converter output
L+ - left channel output (+)
L- - left channel output (-)
R+ - Right channel output (+)
R- - Right channel output (-)
PLAY - function button
Technical specification DFPlayer Pro
Type: MP3 mini player
Number of channels: 2
Built-in memory: 128 MB
Support for analog U-disks: yes
Operating options:

from Arduino level
ADKEY control
using AT commands
physical control using built-in buttons

Built-in power amplifier: yes
Supported audio formats: MP3, WAV, WMA, FLAC, AAC, APE
Communication interface: UART
Supply voltage: 3.3 V / 5 V
Operating current: > 20 mA
Operating temperature range: from -20°C to 70°C
Recommended humidity during operation: 5% to 95% RH
Module dimensions: 23 x 24.5 mm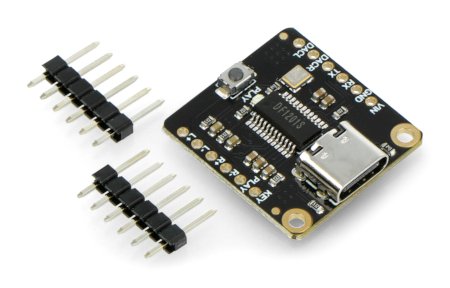 Two-channel mini MP3 player manufactured by DFRobot - goldpin connector included.