Product description: SenseCAP M4 Square - FluxNode - SeeedStudio 110991865
SenseCAP M4 Square is a Cumulus FluxNode device that provides an easy and friendly installation process via the SenseCAP Hotspot mobile application. The FluxOS based FluxNode supports potential extensions for other web3.0 dAPPs . No coding required to configure the FluxNode module with SenseCAP M4 Square for a scalable, decentralized computing network. SenseCAP M4 Square is based on Odyssey minicomputer equipped with Intel Celeron J4125 processor with RP2040 coprocessor, 8 GB RAM and 512 GB SSD.
SenseCAP M4 Square is subject to the "NCNR - Non Cancellable, Non Returnable" policy.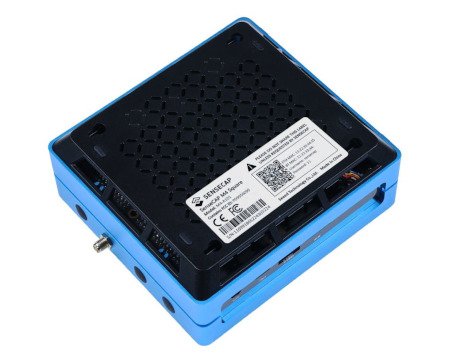 SenseCAP M4 Square running FluxOS.
Main features of SenseCAP M4 Square
Plug and Play - allows configuration without coding, giving you the ability to start working with Cumulus FluxNode in 4 steps.
Multi-App Support - Allows you to deploy multiple SenseCAP-provided apps from your dApp hub. First app is Flux, more apps coming soon.
Cloud service - provides a comprehensive cloud service that allows the user to purchase, deploy, manage and monitor their devices.
Superior performance - equipped with Intel Celeron J4125 processor (2 GHz to 2.7 GHz) with 4 cores and 4 threads. It has a built-in TPM2.0 crypto processor, ECC608 crypto chip, which provide high-security authentication and reliable connectivity.
Low energy consumption - 10 W, 7.2 kWh per month.
Plug and Play
SenseCAP M4 Square provides the easiest way to deploy Cumulus FluxNode. It does not require typing Linux commands, building environment. Only 4 steps are required to complete the deployment.
Start your device and connect to the Internet
Install and log in to the SenseCAP Hotspot app
Connect the app to the SenseCAP M4 Square via Bluetooth
Enter FluxNode information and start deployment, then SenseCAP M4 Square will deploy FluxNode automatically
Cloud service
Comprehensive cloud services include the SenseCAP Hotspot App and the SenseCAP Dashboard, which enable users to manage the entire lifecycle of their devices: purchase, configure via Bluetooth, obtain comprehensive information, monitor their operating status, contact technical support and get the latest services and news provided by SenseCAP .
Multi-application support
The SenseCAP M4 Square is a powerful, expandable appliance for deploying multiple applications. The SenseCAP team is building a dApp hub to help users reduce the complexity of deploying multiple apps. Users can quickly and easily install apps on SenseCAP M4 Square via SenseCAP Hotspot.
Low energy consumption
The SenseCAP M4 Square consumes only 10W of power. Users can deploy more devices with minimal energy costs
Excellent performance and high security
The device is based on the Intel Celeron J4125 processor clocked from 2 GHz to 2.7 GHz with the Raspberry Pi RP2040 32-bit dual-core ARM Cortex M0+ coprocessor to optimize the performance of the SenseCAP M4 Square. The excellent performance allows for reliable and efficient processing of many applications and provides higher EPS and faster write to disk (DWS) speed.
SenseCAP M4 Square has a built-in TPM20 cryptographic processor and ECC608 cryptographic chip, which protect devices against external software threats and physical theft.
Layout of elements on the board
Power button
DC power input
Ethernet connector 1
Ethernet connector 2
HDMI port
USB 2.0 x2 port
Audio jack
USB 3.1 Type-C port
USB 3.1 port
microSD card slot
LoRa connector
End Cap / cover
Cap
Button B1
Button B2
I3 indicator
I2 indicator
Indicator I1
*SD, USB, Type C, audio jack, LoRa connector, HDMI and USB 2.0 x2 are reserved for interfaces that extend the functionality of the device.
SenseCAP M4 Square Specifications
Processor: Intel Celeron J4125 clocked from 2.0 GHz to 2.7 GHz
Coprocessor: Raspberry Pi RP2040 32-bit Dual-Core ARM Cortex M0+
Graphics: Intel UHD Graphics 600, 250MHz to 750MHz
RAM: LPDDR4 8GB
Storage: SSD 512GB
Wireless connectivity: WiFi 802.11 a/b/g/n/ac 2.4GHz / 5GHz HT160
Network: Intel 226-V PCIe 2.5GbE LAN, supports Wake-On-LAN and PXE
Audio: microphone + headphones
USB:

2x USB 2.0 type A
1x USB 3.1 type A
1x USB 3.1 type C

Video:

HDMI 2.0a: up to 4096 x 2160 @ 60Hz 24bpp
DP1.2a: up to 4096 x 2160 @ 60Hz 24bpp

Expansion Slots:

M.2 (key B 2242 / 2280): SATA III, USB 2.0, UIM
M.2 (key M 2242 / 2280): PCIe 2.0 x4, microSD card slot, SIM card slot, SATA III

Operating temperature: 0°C to 45°C
Storage temperature: -20°C to 60°C
TPM: built-in TPM 2.0
Power:

12 V to 19 V DC Jack 5.5 / 2.1 mm
15V USB Type-C PD

Dimensions: 130x120x50mm
Kit contents
SenseCAP M4 Square - FluxNode - SeeedStudio 110991865
Power supply with adapters
Instruction
Stickers
‌