Description
Module features a blue OLED display with a resolution of 128 x 32 px and a diagonal of 0.96" with built-in 2 digital buttons and a 5-direction joystick. It communicates via I2C. Display as an overlay for the GPIO connectors of the FireBeelte module.
The product is compatible with FireBeetle
The manufacturer provides auser manualfor the Firebeetle.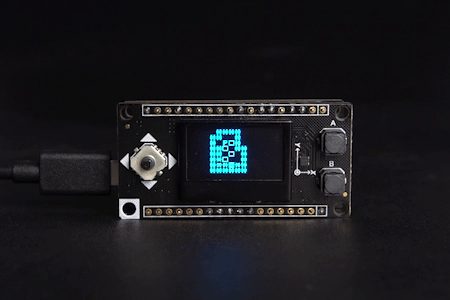 Specification
Supply voltage: 3.7 V to 5.5 V
Buttons: 2x digital on D4 and D8 pins
Joystick: 5-direction, analog on A0 pin
3-axis accelerometer BMA220:

Bus: I2C
Resolution: 6-bit
Range: 2 / 4 / 8 / 16 g
Current consumption: 250 uA

OLED:

Model:

UG-2864HLBEG01

Diagonal: 0,96"
Resolution: 128 x 64 px
Color: blue
Bus: I2C

Font layout:

GT30L24A3W

Bus: SPI
Dimensions: 58 x 29 mm