Description: Filament Fiberlogy Nylon PA12 1.75 mm 0.75 kg - Black
High-quality Fiberlogy nylon filament of1.75 mmdiameter inblack. The net weight of the material is0,75 kg. The cartridge for3Dprintersisresistant to temperature, alcohol. It is possible to use the filter for printing mechanical parts such as guides, gears or technical elements such as nuts or slide bearings. The Nylon PA12 filter is designed for printing in FFF / FDM technology.
For each material in our offerweoffer ready-madeprofiles for the Cura program,which allow you to use the filament immediately and without any configuration. For this purpose we import a file dedicated to a specific model.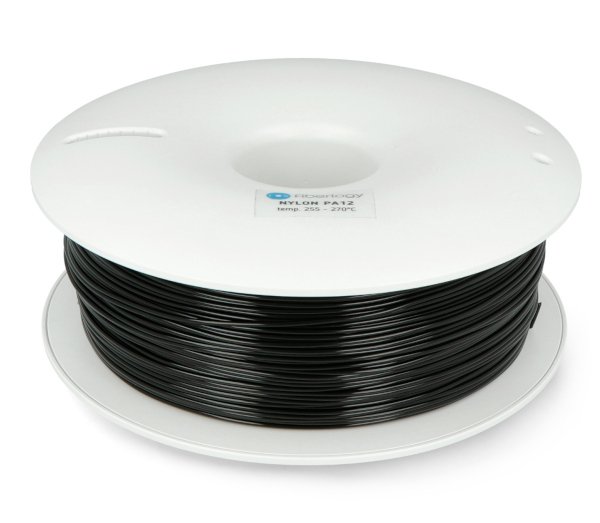 Filament Fiberlogy Nylon PA12 1.75 mm 0.75 kg - Black.
Features of the file
Wear-resistant
Alcohol resistant, temperature resistant
It is characterised by its flexibility
No drying required
Designed for mechanical and technical applications
It can be machined with metal tools and painted
It can be up to 50% longer before it breaks
It is not resistant to compressed acids and bases
Suggested print parameters for filament
| | |
| --- | --- |
| Printing temperature | From 255°C to 270°C |
| Table temperature | 100°C |
| Cooling the printout | Recommended |
Due to design differences between printers, the above data should be treated as a guide and the corresponding values should be determined experimentally.
Technical specifications and physical properties of the pillar
Parameter
Scope
Diameter of pillar
1.75 mm
Dimensional tolerances of the philanthropy
+/- 0,02 mm
Colour
Black
Printing temperature
From 255°C to 270°C
Table temperature
100°C
Spool - material
Nylon PA12
Reel diameter
200 mm
Reel width
80 mm
Mounting hole diameter
52 mm
Moisture absorber
Yes
Vacuum packing
Yes
Roundness
+/- 0.01 mm
Packaging dimensions
205 x 205 x 90 mm
Net weight
0.75 kg