Description: Prusa PLA Filament 1,75 mm 1 kg - Jet Black
Prusament is a filament from Prusa designed for FDM 3D printers. It is made of PLA and produced using Natureworks 4043D resin - the best and most commonly used in 3D printing. Filament in Jet Black colour - deep black. Its diameter is 1,75 mm and net weight is 1 kg. It is biodegradable, made from renewable natural resources. It can be repeatedly heated above its melting point without significant loss of properties. It is characterized by low temperature resistance, dedicated for indoor use.
Properties of Prusament
Made of biodegradable materials
Has a low melting point
Can be repeatedly heated above its melting point without significant property loss
Hard but brittle
Low temperature strength
PLA printed parts begin to lose mechanical strength at temperatures above 60°C
Low UV resistance, recommended for indoor use
Individual printouts made with PLA material are recommended to be glued together
For selected materials from our offer we offer ready-made profiles for Cura program, which allow the use of felt immediately and without any configuration. For this purpose, we import a file dedicated for a particular model.
Suggested parameters for printing with felt
| | |
| --- | --- |
| Head temperature | From 200°C to 220°C |
| Table temperature | From 40°C to 60°C |
| Print cooling | Recommended |
Due to differences in printer design, the above data should be considered as a guideline and the appropriate values should be determined experimentally.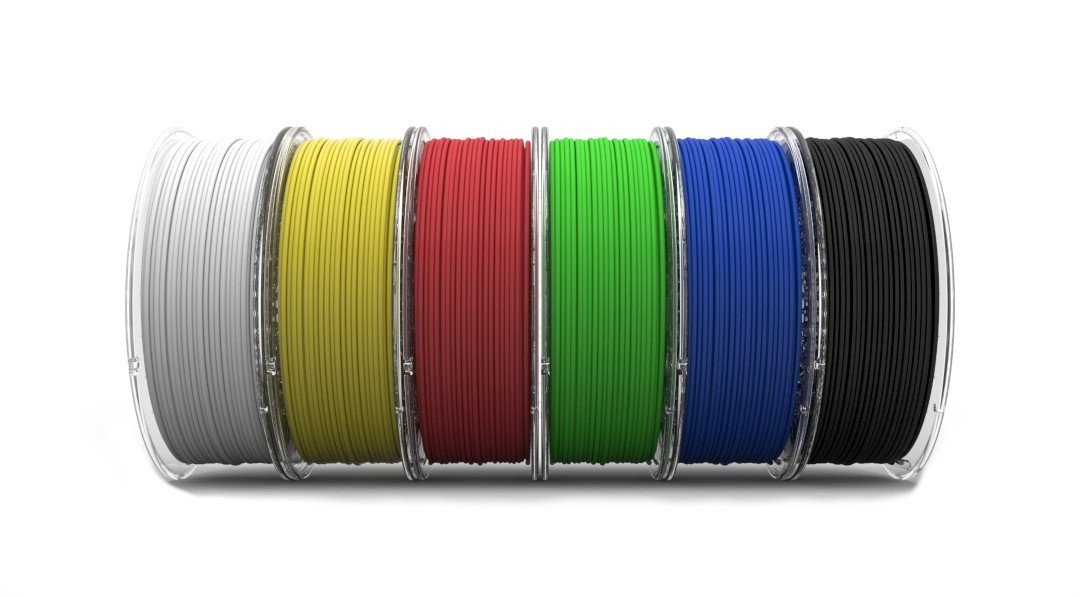 Wide selection of colours and materials.
Wide range of colours and materials
In our offer you will find more types of filaments from different manufacturers. They are available in a wide range of colours and materials. Our assortment consists of a carefully selected range of felts for various applications - be sure to check out our other offerings! All materials are available from us at favourable prices.
Technical specifications and physical properties of Prusa Filament
| Parameter | Range |
| --- | --- |
| Filament diameter | 1,75 mm |
| Dimensional tolerance of the filament | +/- 0.02 mm |
| Usage | FDM 3D printing |
| Chemical name of the filament | Polylactic acid |
| Material shrinkage | Low |
| Colour | Black Jet |
| Spool - material | PLA |
| Spool diameter | 200 mm |
| Spool width | 70 mm |
| Mounting hole diameter | 52 mm |
| Net product weight | 1.0 kg |